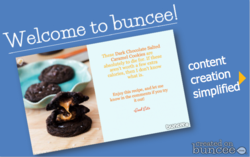 buncee.com is rapidly expanding their user base in business and education. We're thrilled to help our new content creators learn about the buncee platform.
Riverhead, NY (PRWEB) April 17, 2013
buncee®, a simple platform to create and share custom content online, today launched a redesigned website which helps their growing base of business, education and creative users find ideas and inspirations that make it easy for them to create digital content to use in their marketing, teaching and social networking efforts.
"We know our current user base falls mainly into these 3 distinct categories," notes CEO Marie Arturi, "and as we continue to improve our platform, we've designed the look and feel of our updated website to help these distinct user groups find resources to inspire and educate them about using our content creation platform." Over the past few weeks, buncee has seen increased adoption and use expand beyond personal creative uses, and has been working closely with businesses and educators to help them leverage the digital canvas to spread their messages online.
buncee.com offers a range of design tools and options for businesses to visually sell and market their products and services online which include: marketing materials, social content, invitations, and sales presentations.
Since buncee easily links to all forms of multi-media including existing teacher videos on Screencast.com, educators - especially those involved in 'flip learning' - have turned to buncee to create interactive lesson plans and Common Core aligned course materials, commenting that buncee.com is faster and easier to use than many existing online presentation platforms.
About buncee.com:
buncee® simplifies content creation with an interactive digital canvas that gives users a whole new way of creating and sharing online and mobile greetings, advertisements, lessons, presentations, interests, and more in a unique, fun and social way. By leveraging the capabilities of online tools and iOS devices, buncee makes it easy for even the most 'non-technical' individuals to create engaging and interactive multi-media creations that can be shared publicly or privately. For more information visit: http://www.buncee.com