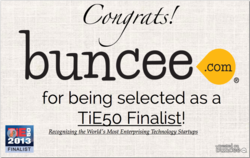 It is an honor to be chosen as a TiE50 Finalist and to be recognized amongst this notable group of enterprising startups.
Riverdale, NY (PRWEB) May 01, 2013
buncee®, a simple platform to create and share custom online content, was chosen this week as a TiE50 2013 Finalist by TiE Silicon Valley, the organizer of TiEcon 2013 - the world's largest conference for entrepreneurs.
Buncee's team will present to a panel of expert judges explaining how buncee.com, makes it easy for educators, businesses, and creative users to design stunning and interactive digital content to use in their teaching, marketing, online messaging and social networking efforts.
Buncee's CEO Marie Arturi remarked, "It is an honor to be chosen as a TiE50 Finalist and to be recognized amongst this notable group of enterprising startups." She added, "The education, small business and creative industries are experiencing an increasing need for easy-to-use and effective digital content creation platforms. We are excited to show the judges how buncee is uniquely positioned to provide these industries with web based and mobile solutions to fulfill their needs."
The TiE50 winners will be announced upon further evaluation and review of the Finalist presentations at TiEcon 2013, to be held on May 17–18th, at the Santa Clara Convention Center in Santa Clara, CA.
More than 1,100 companies from 22 countries were screened resulting in 103 world class finalists. The TiE 50 selection process was designed with meticulous planning, screening and judging by a team of prominent entrepreneurs, venture capitalists, corporate executives and other domain experts. Winner awards will be presented on Saturday, May 18, 2013.
About buncee.com:
buncee® simplifies content creation with an interactive digital canvas and easy-to-use tools that give users a whole new way of creating and sharing customized online and mobile content, whether promoting a product or business story, creating digital educational lesson plans, or personalizing e-greetings, invitations and more. By leveraging the capabilities of online tools and iOS devices, buncee makes it easy for even the most 'non-technical' individuals to create engaging and interactive multi-media creations that can be shared publicly or privately. For more information visit: http://www.buncee.com.
About TiE50 Awards:
TiE50 is TiE Silicon Valley's premier annual awards program contested by technology startups worldwide. TiE50 track record since inception in May 2009 shows that 94% of the winners and finalists have been funded, attracting over $20 Billion in investments. More than 110 companies have been acquired, merged or gone public. Participating technology startups benefit from a vast ecosystem of venture capitalists, angels, and entrepreneurs. Other participant privileges include significant investor exposure, online virtual showcasing and technology and business partnering/networking. For more information, please visit http://www.tie50.net.
About TiE:
TiE is a global not-for-profit organization fostering entrepreneurship through mentoring, education, and networking. We consider entrepreneurship to be the single most powerful instrument to advance global prosperity. Our greatest strength is our network of over 60 chapters in 17 countries with a worldwide membership exceeding 14,000 that includes successful entrepreneurs, venture capitalists, corporate executives, and aspiring entrepreneurs. For more information on TiE, please visit http://www.tie.org.