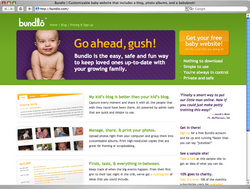 The idea for Bundlo hit me when the blog I was using for my own little guy just wasn't offering me the tools and the privacy I wanted
Tuscaloosa, AL (PRWEB) August 14, 2007
A stranger walks up to you with pen and paper in hand and starts asking personal questions. Questions like, 'What's your birth date?', 'Where do you live?', 'Where were you born?', and 'May I take a picture of you?' Well, unless you have a serious case of compulsive over-sharing disorder, there's no way you would consider answering the stranger's questions. Then why would you give that same information about your new baby to anyone with an internet connection?
New parents are excited to share the accomplishments and adventures of their little ones with families and friends -- and the modern parent often turns to the Internet as a way to reach an audience of loved ones. It's simple: set up a blog, start writing, add pictures and a few videos, and suddenly Aunt Jamie is seeing little Spencer's first steps as if she lived next door! The problem is, most popular blogging services are meant for adults; and what many parents don't realize is they're attracting some other very unwelcome visitors.
Identity thieves have clued into blogging as a new and growing source for accessing personal information from one of their favorite targets: babies and children. And while some websites developed specifically with kids in mind have incorporated secure password access features, one newcomer to the field has taken extra steps to ensure that no one -- and they mean no one! - gets to read about Emily's trip to the dentist or see Aiden's new dance moves unless they have been specifically invited.
Launched in May 2007, Bundlo, LLC™ has all the goodies parents want from a blog site -- photo management, site customization, even an innovative on-line babybook -- while taking security one step further. Not only is every site password protected, but visitors must be invited by site administrators (that means the parents) who manage their children's "bestest friends" through a simple control panel. It's an extremely simple, yet very effective, system.
Bundlo takes security very seriously, but that doesn't mean they don't have fun -- lots and lots and LOTS of fun! Designed and written for the modern parent who's still a kid-at-heart, Bundlo's bright, fresh, cheeky presence also belies a powerful and highly functional service worthy of the most demanding web geek. And they make it so easy…for the non-geek parent who just wants to share their trip to the zoo with the grandparents.
To check out all the bells and whistles, parents can sign up for a free account…then, if and when they decide they need a few more bells and whistles, they can upgrade for just $6, $9, or $16 monthly (with the option to change or cancel their plan at any time for no charge). Parents also select where they want 10% of their monthly payment to be donated: St. Jude Children's Research Hospital, Make-a-Wish Foundation of America, Shriners Hospitals for Children, or The National Center for Missing & Exploited Children.
"The idea for Bundlo hit me when the blog I was using for my own little guy just wasn't offering me the tools and the privacy I wanted," says Bundlo President and Founder Mark Barry. "I decided to build a system that would be ultra safe, fun for me as a parent…and do good things at the same time."
To learn more about Bundlo visit: Bundlo Homepage
For more information on Child Identity Theft visit: Identity Theft Resource Center
###