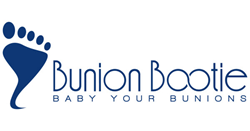 The Customer Appreciation discount will be available in conjunction with automatic discounts applied when purchasing at least two (2) Bunion Booties.
Paso Robles, CA (PRWEB) September 27, 2016
Bunion Bootie is celebrating Customer Appreciation Week by offering an additional $5 discount on purchases made directly through their website (https://www.BunionBootie.com) today through October 7th, 2016. Website visitors can use the discount code "CAW" at checkout to take advantage of this incredible savings. Only one promo code can be used per checkout.
The $5 Customer Appreciation discount will be available in conjunction with automatic discounts applied when purchasing at least two (2) Bunion or BunionETTE Booties. Visit Bunion Bootie's Discounts page for more details or contact customer service at CustomerService(at)BunionBootie(dot)com or by calling Bunion Bootie toll free at 877-208-4540 Monday through Friday 10 a.m. to 4 p.m. PT.
Those who suffer from bunions know that the options available to treat bunion pain are limited; surgery involves long, painful recoveries, rigid splints that are uncomfortable and impossible to wear during the day in shoes. Other gadgets intended to straighten the big toe or protect the irritated bunion area are difficult to keep in place or are too bulky to wear in everyday shoes. Not Bunion Bootie.
Bunion Bootie has addressed all of those issues with their snug and secure fitting ultra thin bunion splint, and trusted physicians are now noticing and recommending Bunion Booties to their patients. As one Bunion Bootie loyalist reported, "My doctor recommended Bunion Bootie as a non-surgical solution for realigning my toe. So far, I'm impressed with the results. The Bunion Bootie not only works, but it is extremely comfortable to wear without adding any bulky material."
About Bunion Bootie
Bunion Bootie was established in 2011 by a group of bunion sufferers who came together in search of an effective non-surgical treatment for bunions. It is the perfect answer for those with active lifestyles or who must stay on their feet for prolonged periods. Hundreds of thousands of office professionals, shift workers, athletes, and users worldwide have become Bunion Bootie loyalists. Bunion irritation, if left untreated, can result in blisters, swelling, tenderness, and bursitis. At only 0.4mm thick, Bunion Booties fit comfortably in almost any shoe (including high heels and running shows), and can provide an ultrathin barrier to protect the sensitive area from rubbing against footwear while providing temporarily re-alignment of their big toe with the proper fit.
Please visit their website https://BunionBootie.com for full details. Discounts are available year round for the purchase of two (2) or more Bunion Booties (and now BunionETTE Booties!) and can be found on the website. Complimentary shipping is applied automatically on orders of 4 items or more. For more information, contact Bunion Bootie through the company's website, BunionBootie.com, or by e-mailing at CustomerService(at)BunionBootie(dot)com.