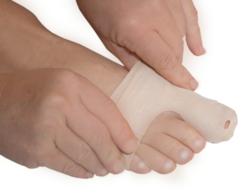 I did not expect the results that I have had. They are brilliant. I feel
more comfortable walking about and my feet are much less painful.
Henderson, NV (PRWEB) June 21, 2012
Bunion Bootie will be celebrating 1 year come July, quickly becoming the most preferred non-surgical bunion treatment, and helping thousands drastically reduce, if not eliminate, their bunion discomfort. Now those suffering from bunion pain have a new and better option to deal with their bunions, one that does not require surgery. As many are aware, bunions can not be cured since it's a condition rather than a disease, but that doesn't stop people from searching for that "magic bullet", a treatment that will help them ease the pain their bunions cause, often preventing people from being as active as they would like to be.
As one Bunion Bootie customer put it "I did not expect the results that I have had. They are brilliant. I feel more comfortable walking about and my feet are much less painful." It's unique to have a bunion treatment that can be customized to your foot and wear preference, and one that is comfortable enough to wear all day and night. Consumers can select between 4 sizes for either the right or left foot allows them to really obtain the fit they are looking for, whether it's a tighter fit to pull the big toe away from the other toes, or the perfect fit that will keep the swelling and tenderness at bay, often caused by friction from footwear.
Bunion Bootie marks it's 1st anniversary with a 83% satisfaction rating by its customers, preferring Bunion Bootie over many dated options such as uncomfortable hard splints, shifty pads and bunion sleeves, and other less effective bunion pain relievers.
Bunion Bootie was established in 2011 by a small group of fellow bunion sufferers who came together in search for a viable non-surgical solution for painful bunions, a solution that they felt did not exist previously. Bunion Bootie is the perfect answer for those where staying off their feet is just not an option, including office workers, shift workers, and athletes. It slips in any shoes easily, comfortably, and for most, undetectably to provide all day relief from the rubbing and irritation most shoes cause bunions. Irritation that if left untreated, can result in blisters, swelling, tenderness, and sometimes bursitis which only exacerbates the discomfort already felt by those suffering from daily bunion pain. At only 0.4mm thick, it even fits comfortably in high heels and running shoes. Additionally, as we are heading into the summer months it's good to know that it is also made with odor and bacteria resistant materials.
Please visit their website http://www.BunionBootie.com for full details. Discounts are available for purchases of more than one (1) Bunion Bootie and those can be found on the website. For more information contact Bunion Bootie through the company's website, BunionBootie.com, or by emailing at CustomerService(at)BunionBootie(dot)com.