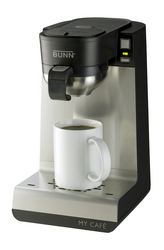 The introduction of My Café deepens BUNN's commitment to the single serve market.
Springfield, IL (PRWEB) March 7, 2011
Bunn-O-Matic Corporation (BUNN), with over 50 years of experience innovating coffee brewing equipment, will present the new BUNN My Café® for Home at the 2011 International Home and Housewares Show in Chicago, IL. This new single serve brewing system uses coffee and tea pods, to produce an aroma rich, fresh brewed cup in less than a minute.
Many believe that My Café for Home will be the next big thing in the high growth single serve coffee segment. With My Café, you can experience fresh coffee aroma even before the brewing begins which is not possible with plastic cups. By combining quality pods with BUNN brewing technology, fresh and authentic coffee and tea flavor is extracted in less than a minute. Also, the open soft pod platform encourages small and large roasters alike to produce pods, and there are already hundreds of coffee and tea pods available on the market. Plus, pods are better for the environment because they have less packaging than other single serve formats and are compostable.
"The introduction of My Café deepens BUNN's commitment to the single serve market," says Aimee Markelz Tracy, Senior Vice President, BUNN At Home Division. "My Café technology using pods gives coffee lovers a more authentic coffee experience – by enjoying the aroma of great coffee before the brew and extracting bolder coffee flavor for a better taste."
My Café is being shipped with a variety of specialty coffee and tea brands including Barnie's Coffee & Tea, Baronet Coffee Roasters, Community Coffee, Donut Shop, Organa Certified Organic Teas, Red Diamond's City Steam Coffee & Silver Service Tea, Reunion Island Coffee, Sweet Unity Farms, Terra Leaf and Wolfgang Puck Coffee.
THE FACTS
My Café for Home (MC)
Jet Action Sprayhead for optimal flavor extraction
Pulse Brew Option for bolder coffee and the preferred setting for tea
Compatible with hundreds of coffee and tea pods, plus tea bags
Brews 4 to 14 oz. at a time
Retail Price: $99.99 to $169.99
Available: Online retail stores with expanded retail distribution expected throughout 2011
Warranty: Two-Year Limited, strongest in the category
ABOUT BUNN®
Bunn-O-Matic Corporation (BUNN®) is a pioneer in the beverage equipment industry. BUNN® was founded in 1957 and built on innovations including the first flat-bottom paper coffee filter for commercial use and the first pour-over coffee brewer. Today, BUNN® continues to develop innovative commercial beverage equipment and home coffee brewers from its global headquarters in Springfield, Illinois and provides comprehensive service to customers throughout the world. For more information, visit http://www.BunnAtHome.com, find us on Facebook at http://www.facebook.com/BUNNFANS and Twitter at http://www.twitter.com/BUNN.
# # #