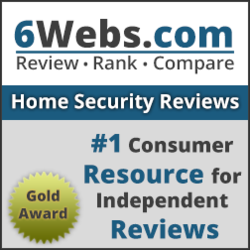 Compare the leading home security companies online at 6Webs.com.
San Francisco, CA (PRWEB) June 28, 2013
6Webs.com has informed thousands of buyers on what to look for when selecting a home security monitoring company. The simple to read reviews and comprehensive comparisons make 6Webs.com the resource consumers favor for unbiased and independent home security reviews. Each year the 6Webs.com staff travels between states completing reviews of the home security alarm system companies which do business in each state. Each home security system provider is evaluated on various aspects including monitoring, equipment and technology among other things.
To view the rankings of the best home security companies, please visit 6Webs.com at:
http://www.6webs.com/best-home-security-systems/
When the 6Webs.com team is finished with conducting the home security reviews they publish educational content to help consumers lead a safer and more secure lifestyle. The experts at 6Webs.com are now releasing burglary prevention tips to help homeowners minimize the risk of being a victim of a burglary.
1. Install a home security system. Most burglaries can be avoided by simply having a home security system installed. They not only serve as the best deterrent but it also provides a peace of mind to homeowners knowing their home is being monitored 24/7 and help can be dispatched within minutes.
2. Keep the landscaping well maintained. This is one of the major reasons why a burglar would target a home. Most burglaries are planned and often times a burglar will case the neighborhood to select which home would make an ideal target. A home that appears as if the homeowners are away for the week is the perfect target.
3. Lock the doors. This sounds like a very obvious tip but burglaries do occur by simply opening the front or back door. A large percentage of burglaries occur between 10am and 2pm because these are times where homeowners are at work and no one is home. Make sure all of the doors and windows are locked at night and before going to work for the day.
About 6Webs.com
6Webs.com is devoted to providing consumers with the best burglar alarm system information available. 6Webs.com stacks up the capabilities and services of the top rated home security companies so consumers can quickly select the best burglar alarm system for their family. Aimed at delivering independent reviews and comparisons, 6Webs.com also releases educational information associated with home security and safety to help families lead a healthier and more secure lifestyle. Visit 6Webs.com for the latest comparisons and reviews of the leading security system providers.