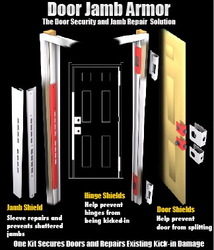 What people believe about home alarms would be comparable to drivers believing that seat belts and air bags are not necessary if their vehicle is equipped with OnStar®
Saddle Brook, NJ (PRWEB) December 23, 2008
The downturn in the economy has led to a dramatic increase in burglaries and home invasions across the country. As thieves become more aggressive, many homeowners are finding out that alarm systems do not stop burglars from entering their homes. Several national television shows have featured Door Jamb Armor® because it is an effective and economical door security solution that will help keep intruders out.
The function of a home alarm system is to alert you that an intruder is inside, not to stop intruders from entering. While alarms can be a deterrent, more than 95% of all home alarms are false. False alarms are a major reason for longer police response times, which can average more than 20 minutes in most areas to several hours in others, according to the Security Industry Alarm Coalition (SIAC). An experienced thief will be in and out of a home in less than 5 minutes, which is why FBI statistics show that only 13% of all burglary investigations ever lead to an arrest. Also, most home invasions occur when homeowners are active in their homes with the alarm systems off.
Homeowners have been led to believe that alarm systems will keep them safe. Countless commercials have shown thieves running away from homes once they hear an alarm, which rarely happens. This false sense of security has led most homeowners to ignore simple steps that could help keep intruders out. As a result, many homes have become easy targets for intruders, who know that they will be long gone before the police arrive. Homeowners often do not think about door security until it is too late.
"What people believe about home alarms would be comparable to drivers believing that seat belts and air bags are not necessary if their vehicle is equipped with OnStar®", Says Alan S. Young, Armor Concepts' CEO.
According to the FBI, more than 70% of all break-ins begin with a kicked-in, or forced-in door, yet most homeowners are unaware that an intruder can kick in a door, equipped with a deadbolt, in about 10 seconds. Residential entry doorjambs are made of soft wood so when a door is kicked, the jamb shatters and intruders just walk in. However, while thieves, jealous spouses and police have known for years that kicking in doors is the easiest way into a home, there have been very few effective and practical ways to secure the doors on a home, until now.
Door Jamb Armor® is a patented 5-piece kit that reinforces the weak points on a door, which include the jamb, the hinges and the lock area on the door. Door Jamb Armor® can be used to repair existing damage or to secure a new or existing door, without removing or altering the door or jamb. Repairing a broken door frame generally takes hours and recently completed door repairs often result in repeat kick-ins. Door Jamb Armor® comes with a warranty that will pay $200 towards the user's homeowners deductible if the product fails. The pieces come with a white powder coated finish that can be painted to match the color of the door or jamb. With thousands of sets installed, Door Jamb Armor® has proven to be a very valuable security and maintenance solution for apartment owners and homeowners across the country. The Door Jamb Armor® combo set has a suggested retail price of under $125 and can be installed in about an hour by most do-it-yourselfers.
The CBS Early Show recently featured Door Jamb Armor® on a segment demonstrating why door reinforcement should be a part of every home security package. The segment, which featured several tests done by the State Farm Insurance Company, showed how easy doors are to kick in and how effective Door Jamb Armor® can be in helping to prevent kick-ins. While State Farm does not endorse products, Door Jamb Armor® was the only product mentioned by name in the segment. Door Jamb Armor® has also been featured in multiple episodes of the Discovery Channel's show, "It Takes a Thief", on HGTV and on Fox News in New York and Phoenix, in addition to countless national magazines, newspapers and radio programs.
"We are not telling homeowners to stop using alarms. We simply want people to understand that security must begin before an intruder is inside. Once an intruder is in your home, you are really at their mercy. A home alarm is your last line of defense, not the first. We started this company because we were victims of this same thinking. We never set out to create a product. We were simply looking for a way to stop people from breaking into houses that we were renovating." Mr. Young added.
Armor Concepts LLC designs and distributes proprietary security and door repair products for homes, apartments and office buildings. Consumers can purchase the Company's products nationally through selected big box retail stores, hardware stores and locksmiths. Professionals can also purchase products through Grainger and HD Supply. For further information about Door Jamb Armor® and other Armor Concepts' products, contact Alan S. Young, 280 N. Midland Avenue, Building L Saddle Brook, NJ 07663. Phone: 201-490-5381. E-mail: info (at) djarmor (dot) com. Website: http://www.djarmor.com
Media Contact:
Alan S. Young
888-582-2294
asyoung (at) djarmor (dot) com
# # #