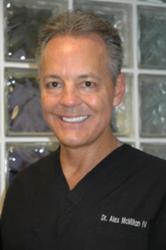 It was a fantastic learning experience, and I gained a lot of understanding and insight in advancing my surgical
skills
Burke, VA (PRWEB) November 30, 2011
Dr. Alex McMillan, Burke Dentist of McMillan and Associates Aesthetic, Implant and Sedation Dentistry, is pleased to have completed a hands-on cadaver course in advanced periodontal and implant surgery. The course was taught by Dr. Hom-Lay Wang who is recognized as one of the top five international lecturers in the field of dentistry. Dr. Wang, DDS, MSD, is the Professor and Director of Graduate Periodontics at the University of Michigan, School of Dentistry, and he has received many awards and honors for his work in implant dentistry. Over the past 15 years, he has given hundreds of lectures at different professional and scientific congresses/courses and universities both in the United States and throughout the world.
The course Dr. McMillan completed at the Global Dental Implant Institute of Toronto is a summary of three previous courses taken there this past year that emphasized advanced periodontal and implant surgical techniques. It provides an opportunity to apply those techniques in a cadaver surgical setting.
This course is designed to help dentists incorporate periodontal plastic surgery and advanced implant surgery into their daily practices. Some of the topics included are: Implant esthetic treatment plan, periodontal plastic surgery - soft tissue grafting, soft tissue management around dental implants.
The hands-on cadaver workshop covers a broad range of advanced periodontal/implant surgical techniques. Continuing education is important to Dr. McMillan to maintain and enhance his skills and benefit patients. The advanced implant surgery methods taught in this hands-on cadaver course will enable him to serve his patients' dental needs with the best and most up-to-date techniques. In Dr. McMillan's words, "It was a fantastic learning experience, and I gained a lot of understanding and insight in advancing my surgical skills." This Burke dentist, Dr. Alex McMillan, is dedicated to continuing his education in dental methods and technology. Congratulations on completing this hands-on cadaver course in advanced periodontal and implant surgery.
###