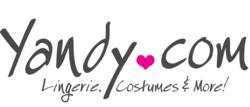 Phoenix, AZ (PRWEB) October 20, 2012
Customers are brushing up on their cancan and kicking up their heels for sexy burlesque costumes from Yandy.com this 2012 Halloween. Yandy.com, online retailer of sexy Halloween costumes, offers shoppers thousands of costume options, burlesque costumes being one of the highest searched for the site.
With 35 different burlesque inspired costumes to peruse in a variety of price ranges, Yandy shoppers will not want for variety. Traditionally, burlesque costumes appeal to Halloween shoppers because of the intricate details like feather plume hats, beaded fringe and risqué silhouettes. Some of the most popular choices include the Deluxe Burlesque Beauty Costume which features a pink and black corset top, layered ruffle skirt with a short in front and long in back silhouette, hat and gloves and the Burlesque Show Girl Costume which includes a black corset with purple sequin detail, an attached black and purple feather skirt, beaded fringe, booty shorts, feather head piece and neckpiece, to name a few.
With so many intricate embellishments, Yandy's burlesque costumes will only look expensive. Yandy's burlesque costumes start as low as $32.95 and range up to $163.95 for more deluxe styles.
Yandy has also seen in several instances where women will collaborate with their friends and go as a cancan line. Just one of many creative group costumes ideas available at Yandy.com.
At Yandy.com, customers not only have so many options when shopping for sexy burlesque costumes to choose from but they also receive additional incentives for shopping like free, flat rate shipping on orders over $70 as well as a free panty with every order.
About Yandy.com
E-commerce is on the rise and Yandy.com is one of the largest online retailers of lingerie, sexy Halloween costumes, swimwear and clothing on the web. Founded in 2003, Yandy boasts more than 6,500 products always in stock at easily affordable prices. Yandy ensures that every customer will receive a safe, secure and private online shopping experience and is backed by COMODO online security and Google Checkout. Yandy is dedicated to customer service and only sells what is in stock which allows for quick, same day shipping. Offering the highest quality products at the most affordable prices in the market, Yandy has become a leader in e-commerce. Yandy works closely with all of the manufacturers they distribute for and hand select all of the items on the Web site to ensure customers have the largest and most diverse collection to choose from. In addition, the customer service team at Yandy is unrivaled. With attentive and helpful operators, should a question or problem arise, the customer service team at Yandy is always willing and able to assist. At Yandy, every customer can Be Sexy.
###