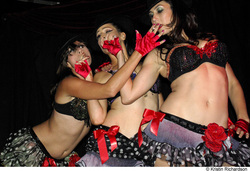 Cherry Boom Boom is a return to classic Hollywood beauty, mixing the sensual intrigue of a traditional cabaret show with heart-pumping rock, classic pinup beauties and high fashion style.
Hollywood, CA (Vocus) April 28, 2010
Sex, love and rock 'n' roll. Director/choreographer Lindsley Allen, member of The Actors' Gang and former Pussy Cat Doll, fuses burlesque with Commedia in a hot new cabaret that stars sizzling dance troupe sensation Cherry Boom Boom. Catch "The Rendezvous" on the last Thursday of every month beginning May 27 at King King in Hollywood.
The leggy ladies of this nouveau cabaret combine burlesque moves, Fosse-style choreography and Commedia dell'Arte to put a shiny new coat of gloss on a classic romp. Not your typical dance revue, "The Rendezvous" brings to life the timeless story of Commedia's thwarted "lovers."
Allen studies Commedia with The Actors' Gang, the world renowned theater company headed up by Academy Award-winning actor Tim Robbins. In "The Rendezvous," she utilizes elements from that style to articulate the unique characters that have been developed by dancers Linda Cevallos, Nikki Dalonzo, Sharon Ferguson, Vanessa Huntoon, Ruthie Inchaustegui, Katie Miller, Kelleia Sheerin, Angela Berliner and Brian Kimmet during the course of their work with Cherry Boom Boom.
"Audiences will get to go on a classic journey -- all the dance numbers support the story," Allen says. "King King is ideal for this piece. The multi-leveled stage, VIP lounge seating, and bar accentuate Cherry Boom Boom's fusion of nightclub cabaret and Broadway show."
When Allen started Cherry Boom Boom last year, buzz was so strong that she was invited to choreograph and co-direct a piece for "Dancing with the Stars" for the troupe and guest dancer Carmen Electra. "Cherry Boom Boom is a return to classic Hollywood beauty, mixing the sensual intrigue of a traditional cabaret show with heart-pumping rock, classic pinup beauties and high fashion style," wrote HollyWire.
Lindsley Allen is an accomplished choreographer and actor who began her career as a professional dancer. When the Pennsylvania Homecoming Queen and Joe Tremaine Scholarship winner with a BFA in Ballet from Philadelphia University of the Arts transplanted to Los Angeles, she quickly become one of Hollywood's A-list dancers. Her work began as a founding member, co-artistic director, and choreographer of THE PUSSYCAT DOLLS at Johnny's Depp's famous Sunset Strip Viper Room and was instrumental in the international success that PCD has today. Other credits include performing on Prince's Around the World in a Day tour as Darling Niki, and on such shows as "VH1 Honors" and the "American Music Awards." Other choreography credits include "Charlie's Angels 2," the HBO series "Carnivale," and "Carmen Electra's Aerobic Striptease." She was a credited original dancer for Ivan Kane's world famous Forty Deuce, the celebrity-studded hotspot that expanded to become Mandalay Bay on the Las Vegas strip. That collaboration resulted in a reality series on Bravo in which Lindsley portrayed herself auditioning and teaching the Fosse-esque style to upcoming dancers emerging onto the scene. Along with dozens of TV and film credits, Lindsley is also a private coach to the stars, working with such luminaries as Pamela Anderson, Cameron Diaz, Drew Barrymore, Lucy Liu, John Travolta, Jennifer Lopez, Gwenyth Paltrow and Christina Applegate among others. Lindsley is a member of L.A.'s prestigious theater company, The Actors' Gang, where she has appeared in "Tartuffe," "The Exonerated," "The Dressing Room," and "Our Town," among others.
A portion of all proceeds from performances of "The Rendezvous" at King King will be donated to The Actors' Gang, which is dedicated to promoting the arts and their power to change society.
"The Rendezvous" will take place on the last Thursday of every month at 9 pm (doors open at 8 pm), May 27 through December 30. King King is located at 6555 Hollywood Blvd. Hollywood, CA 90028. Tickets range from $15-$35. King King is a 21 and up venue; valid ID required - no exceptions. For more information, the public should call the King King box office at (323) 960-5165 or visit http://www.cherryboomboom.com .
###