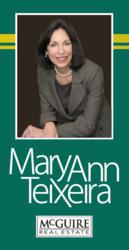 We are quite possibly facing a roadblock to any glimmers of recovery if this set-back takes place.
Burlingame, CA (Vocus/PRWEB) June 30, 2011
In 2008, Congress stepped in to adjust conforming loan limits from $417,000 to $729,750 in an effort to stimulate the economy by making more money available for home buyers and enticing people to buy. Since then Congress has extended them every year through September 30, 2011. As it stands, effective October 1, 2011 it will cost home buyers more to finance a loan exceeding $650,500. This will affect many houses on the San Francisco Peninsula market.
"We are quite possibly facing a roadblock to any glimmers of recovery if this set-back takes place," said Mary Ann Teixeira, a Burlingame real estate professional. "Buyers would need to come up with larger down payments and be able to qualify for higher mortgage payments. All mortgages backed by Federal Housing Administration (FHA), Fannie Mae and Freddie Mac, known as government sponsored enterprises, (GSEs) would be affected."
Bay Area real estate will be hit hard by the change in loan limits when the conforming loan adjusts down to $650,500. Because of the high cost of Bay Area housing, purchasing a home often requires a loan in excess of $650,500. Given that jumbo loans generally carry a higher interest rate, monthly payments would increase and further hamper the buying power of potential new home buyers. Additionally, with the burden of a higher monthly mortgage on a household, businesses and services in the communities with homeowners who have less expendable dollars will suffer.
According to a recent study conducted by the California Association of REALTORS®, under the new GSE loan limits would impact the borrowing power of a potential Bay Area home buyer by $104,250. Projecting this onto 2012 home sales, 10.7% of San Mateo County's home sales would be rendered ineligible under the new lowered GSE loan limit. Other Bay Area counties affected are Marin (12.2%), Contra Costa (11.5%), San Francisco (9.9%), Monterey (8.8%), Santa Clara (7.8%), and Alameda (6. 3%).
For additional information about reasons to use a Bay Area real estate agent or San Francisco Bay Area Peninsula real estate and relocation, call Mary Ann Teixeira at (650) 241-0318, or visit her website at http://www.maryannt.com.
About Mary Ann Teixeira
Mary Ann Teixeira is a licensed REALTOR® with McGuire Real Estate in Burlingame, California who specializes in relocation services, homes for sale, and luxury homes. She is a seasoned buyer's agent who serves the San Francisco Bay Area Peninsula communities of Atherton, Burlingame, Cupertino, Hillsborough, Los Altos, Los Altos Hills, Los Gatos, Menlo Park, Mountain View, Palo Alto, Portola Valley, Redwood City, San Carlos, San Jose, San Mateo, Santa Clara, and Woodside.
###