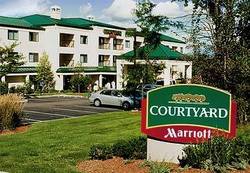 Burlington, VT (PRWEB) June 5, 2010
Family fun, rest, relaxation and romance are all in store for Vermont travelers thanks to some great getaway packages offered by Burlington, Vermont hotels. Special packages designed to create fun and relaxation offer something for everyone at the Courtyard Burlington Taft Corners Hotel near Burlington, Vermont.
Burlington Staycation at the Courtyard
Families don't have to wander far from home or empty their savings account to getaway for some fun and relaxation with the "Staycation" package offered by the Courtyard Burlington Taft Corners. This great package offers families and/or friends and even individuals the opportunity to getaway, take a dip in the hotel pool and enjoy some relaxation with pizza and a movie, compliments of the Courtyard. With plenty of fun attractions in and around Burlington and the Champlain Valley, guests can enjoy great Burlington, VT hotel accommodations and plan an exciting excursion for the next day. Rates for this "Staycation" package start at just $149* and are valid through May 7, 2011. In addition to deluxe hotel accommodations, guests will receive a large single topping pizza delivered to their hotel door, a free in-room movie and complimentary breakfast for two adults and two children.
Romantic Getaway Package
Just the two of you! That's right this package is designed for couples only with the intent of providing some well deserved time alone to reconnect with each other and create a memorable weekend getaway! With rates starting at just $159* and valid through May 7, 2011, guests will receive deluxe accommodations for two, an edible arrangement of chocolate dipped strawberries, a bottle of champagne and breakfast for two. Enjoy great room amenities, including lavish bedding ensembles, premium movie channels and pay-per-view movies for a relaxing weekend with that special someone.
Escape Ethan Allen Cruise Package
Nothing can be better than fantastic hotel accommodations and a cruise! Guests taking advantage of the Ethan Allen Cruise Package will enjoy the best of both worlds - the fun and beauty of a cruise on board the Spirit of Ethan Allen Cruise Ship and the comforts of a fine hotel room without worrying about motion sickness! With this special cruise package, guests will be served an extensive luncheon buffet and breathtaking views of Vermont and New York from the ship as it travels over Lake Champlain, in addition to deluxe hotel accommodations for two at the Courtyard. As a bonus, for additional relaxation, guests will receive a voucher for 15 percent off services at the nearby Oasis Day Spa. The lake cruise lasts an hour and a half and includes a Lake Champlain narrative for added interest. Rates for this special offer, valid only from June 12 through Oct. 30, 2010, start at just $169*. All cruises start at noon and availability is limited so reservations must be made at least seven days in advance. Cost for additional adults is $25 each and children ages 3 to 11 are $15. A 72-hour cancellation notice is required.
Online reservations for any of these Burlington, Vermont, hotel packages may be made by visiting the hotel's website at http://www.marriott.com/hotels/travel/btvwl-courtyard-burlington-taft-corners/ or call 1-802-879-0100 for reservations or information.
*Rates are per room per night. There are a limited number of rooms available for each promotion. Offer does not apply to groups of 10 or more rooms and cannot be combined with any other promotion. Advance reservations are required. Please visit hotel website for additional terms and conditions.
About the Courtyard Burlington Taft Corners
The Courtyard Burlington Taft Corners is conveniently located less than three miles from Burlington International Airport and just 10 minutes from downtown Burlington, VT. Featuring newly designed guest rooms, mini refrigerators and complimentary high-speed Internet access, the hotel is a great Vermont destination for both business and leisure travelers, offering a heated indoor pool, whirlpool and fitness room.
###