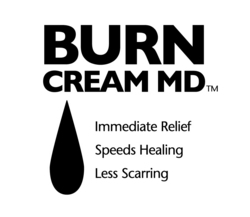 After applying BURN CREAM MD™ to my burn recently, the pain was immediately dulled and this lasted a long time. The wound healed quickly and I didn't have to stop and think about the pain. I would definitely recommend BURN CREAM MD™ to my chefs, my friends and my family
New York (PRWEB) September 30, 2009
BURN CREAM MD™, endorsed by Emeril Lagasse and Mario Batali, will be educating the public during National Burn Awareness Week. BURN CREAM MD™ creator, Dr. Diane Madfes and former FDNY firefighter Tim Brown of the http://www.thebravest.com will be on hand for broadcast and print media interviews to discuss burn statistics, tips on how these common and painful accidents can be prevented and common myths for treating burns. A portion of sales during National Fire Prevention Week will be donated to the Fire Department of New York (FDNY) Foundation.
BURN CREAM MD™ offers today's most effective tool to keep on hand for minor burns whether you're working in the house or a professional kitchen. Wherever quick relief is needed, a patented blend of soothing analgesics combined with healthy moisture delivers immediate relief for pain, speeds healing and decreases scarring.
Celebrity chefs agree.
"I was pleasantly surprised how well Burn Cream MD™ worked for me and my staff," says Emeril Lagasse. "Not only did it absorb quickly leaving a clean feel, it also reduced the sting of my serious burns effectively."
"After applying BURN CREAM MD™ to my burn recently, the pain was immediately dulled and this lasted a long time. The wound healed quickly and I didn't have to stop and think about the pain. I would definitely recommend BURN CREAM MD™ to my chefs, my friends and my family," says Mario Batali.
BURN CREAM MD™ isn't just for professionals.
Statistics show that at least 50 percent of all burn accidents can be prevented.
The numbers are staggering:

In the US, approx 2.4 million burn injuries are reported each year: 65 million treated by medical professionals.
For children ages 14 and under, most common causes of product-related thermal burn injuries are hair curlers, curling irons, room heaters, ovens and ranges, irons, gasoline and fireworks.
From ages 5 to 74, most burns occur outdoors, with the next most frequent are being the kitchen.
From Ages 75 and above, the kitchen is most frequent area for burns, with outdoor fire being next.
Most common burn accidents for older adults are from flame or scalding, lighting trash fires or a furnace or bathing.
These statistics do not take into account the injuries that go unreported. These type burns include sunburns, minor scalds, match burns, iron and curling iron burns, burns from coffee, microwave steam, barbecues, ovens, etc.
To schedule an appointment for a broadcast or print interview, contact: Janet Arena, publicity, (917-439-7022).
About BURN CREAM MD™:
Healing Skin, LLC
225 E 86th Street
New York, NY 10028
Tel: 212-327-BURN (2876)
For more information or to purchase: http://www.burncreammd.com.
Media contact: Janet Arena
Tel (917-439-7022)
[email protected]
http://www.burncreammd.com
###