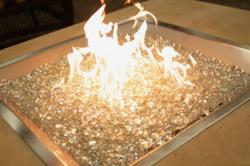 UL listed gas fire pit burners do not create sparks or smoke and meet guidelines for safe use during many burn bans.
Eagan, MN (PRWEB) September 27, 2011
Extreme heat and dry weather conditions have forced many county officials across the country to impose outdoor burn bans. These bans are placed to protect the environment and prevent destructive fires. They make private wood fire burning illegal or only allowed by permission of the local fire department or local government. Gas fire pits, like those from The Outdoor Greatroom Company, are exempt from many burn bans and provide a way to keep fires burning.
Burning a fire that runs on clean-burning fuel, like natural gas, will not produce the carcinogenic smoke created by a wood-burning fire. This means less impact on the environment, and neighbors won't complain about smoke floating into their yard. Gas fire pits not only meet requirements for many burn bans, they are also convenient with very little maintenance. No wood to buy, no soot, smoke, or ashes, and no messy clean-up. Clean-burning fuel options include LP, natural gas, denatured alcohol (non-pourable gel fuel), and pellet fuel.
Dan Shimek, President of The Outdoor GreatRoom Company states, "There isn't a 'surefire' way to bypass all burn bans. However, by choosing a UL listed gas fire pit it is possible to have year-round enjoyment of fire, in a way that is both safe and legal. Outdoor GreatRoom products meet the high standards for safety and emissions set by UL, providing them exemption from most bans."
The stainless steel gas burners units manufactured by The Outdoor GreatRoom Company generate a controlled fire, eliminate sparks, and do not create toxic smoke. State and local codes vary, as does the duration of individual bans. Research local codes online and check with code officials in each affected zone to and determine if UL Listed gas fire pit tables are a viable option.
From small urban balconies to shared campsites, UL listed gas fire pit burners make it easier than ever to rekindle the warm glow of a fire year-round. The Outdoor GreatRoom® Company is a leading manufacturer of gas fire pit tables, offering a full line of products for outdoor living spaces. All OGC fire pit burner units are UL listed. This ensures that the unit that has been tested to properly ignite and burn cleanly and safely with natural gas or LP.
Top 5 reasons to choose a gas fire pit table:
1. Safety & Peace of Mind. UL listed products are tested for safe use.
2. Eliminate Smoke that carries toxic particles and irritates neighbors.
3. Convenience. No hauling wood, no messy clean-up.
4. Quick to Start. Electronic ignition starts the fire.
5. Style and design. Pre-fabricated or DIY custom surrounds.
Top things to consider when buying a gas fire pit table :
1. UL listed burners ensure safety testing and approval.
2. Stainless steel burners and components won't rust.
3. Electronic ignition. Makes starting the fire simple and safe.
4. Remote control options offer convenience.
5. Natural Gas. If using NG, consult with a professional before making your purchase.
6. Attractive Propane Tank Covers. If using LP (liquid propane) gas, see if the fire pit table has the provision to house a tank underneath. If not, shop for an attractive tank cover that matches your space. Most fire pits use a 20lb propane tank - the same type used for gas barbeque grills.
About The Outdoor GreatRoom Company
Founded by industry veteran Dan Shimek, co-founder of Heat-n-Glo fireplaces, The Outdoor GreatRoom Company develops unique, innovative products for outdoor living and entertaining. Products include Grills (gas and electric), Outdoor Kitchens, Fireplaces (gas, and gel), Gas Fire Pit Tables and Burner Units, Outdoor Furniture, Pergolas and more. visit http://www.OutdoorRooms.com .
About Underwriters Laboratories
UL is an independent product safety certification organization that has been testing products and writing Standards for Safety for more than a century. UL evaluates more than 19,000 types of products, components, materials and systems from more than 66,000 manufacturers each year. In total, there are more than 20 billion UL Marks appearing on products worldwide. UL's global family of companies and network of service providers includes 68 laboratory, testing and certification facilities serving customers in 102 countries.
###