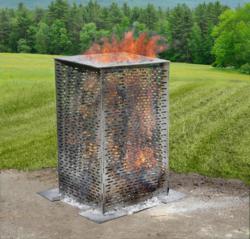 Burn barrels are a nuisance to property owners
Vergennes, Vermont (PRWEB) August 14, 2012
DR Power Equipment today introduced the BurnCage™, a new home and garden incinerator that eliminates all the shortcomings of burning in a traditional burn barrel.
For years, homeowners have relied on backyard burning in steel barrels to eliminate items such as sensitive financial documents and yard debris. Although 55-gallon steel barrels may seem like safe receptacles to contain a fire, they were designed for chemical and hazardous waste storage.
"Burn barrels are a nuisance to property owners," said DR Power Equipment product manager Carl Eickenberg. "These barrels rust, are unpleasant to look at, and don't provide a safe enclosure to contain flying embers. The new BurnCage is easy-to-use, much safer than a burn barrel, and has perforations for more thorough burning with easier clean up. And it doesn't rust and become an eyesore like an oil drum."
Here are some of the BurnCage's key features:

Completely enclosed, perforated design – contains flying embers while providing excellent airflow to create optimal conditions for burning. The result is burn temperatures of up to 1600 ° F, which turns household combustibles into a fine, powder-like ash.
Folds flat for easy transportation and storage- Unlike steel drums, which sit out in the open and rust, the BurnCage has formed corner hinges which allow the barrel to fold flat into a neat stack less than an inch thick, making it easy to move and store. Overall dimensions measure 35" x 20" x 20".
11-gauge type 439 stainless steel construction – this durable, corrosion resistant steel was developed for high-heat applications such as furnaces and automobile mufflers, withstands temperatures over 2000°F.
4,000 cubic inch capacity – holds 1,100 cubic inches more than steel drums.
Suggested uses for the BurnCage home incinerator include burning unwanted leaves, financial documents, and household waste. The BurnCage is available for purchase directly through DR® Power Equipment at http://www.drpower.com/burncage.
PRODUCT PHOTOS AND DEMONSTRATIONS ARE AVAILABLE. DR Power Equipment sells products factory-direct and through a network of over 500 dealers; order a free catalog at 802-877-1200, or order online at http://www.drpower.com. For more information on DR® POWER EQUIPMENT, please contact Jon Trobaugh PR@drpower.com.
About DR® Power Equipment
DR® Power Equipment, a division of Country Home Products, Inc., the premiere developer and marketer of professional-grade outdoor equipment for residential use, was founded in 1985 in Charlotte, Vermont. Country Home Products is a three time winner of Vermont's "Best Places to Work" award. It employs over 220 people and occupies three facilities. For more information on its complete line of power equipment and property care supplies, visit the web site at http://www.drpower.com.