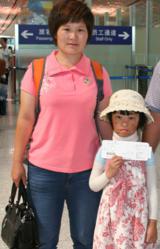 St. Louis, MO (PRWEB) July 16, 2012
For the fourth time in six years, Zhengwei Sheng,7, has flown from Beijing, China to Boston for treatment of extensive burns at Shriners Hospital. This week will be her fourth round of surgeries on her severely scalded upper torso and face. When Zhengwei, called Haodi, was a baby, a pot of boiling noodles poured down over her head. Because of improper medical treatment in her rural area of China, her chin eventually fused to her chest.
In 2007, as the scarring became life threatening, Children's Hope International Foundation provided travel to the United States for Haodi and her mother to receive the free world class burn treatment at Shriners.
During her months of care, dozens of Chinese-Americans in Boston embraced Haodi and her mother with loving kindness - providing host homes and prayerful support during surgeries.
As Haodi's body grows the scarring does not. So operations since her initial treatment are required to release the reconstructed tissue so that she can breathe easier with less constriction on her throat and chest. The surgery and therapy will take about a one month stay in Boston.
Children's Hope International Foundation provides hope for international orphans and children living in poverty through medical care, sustainable nutrition, safe drinking water, international adoption, and education; impacting the lives of thousands in China, Ethiopia, Colombia, Russia, Vietnam and India. HelpAnOrphan.org