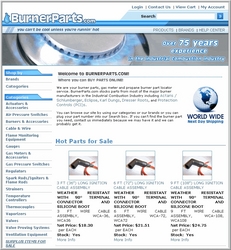 The plan includes capitalizing on the newly improved website with exciting promotions so that customers can find what they need, purchase it easily and enjoy free shipping or other discounts depending on what specials are in place at the time
Richmond, VA (PRWEB) July 23, 2008
The web has changed the nature of many businesses and industries, and commercial manufacturing and the parts needed to sustain equipment is no different. BurnerParts.com has been associated with the business of supplying major manufacturers with commercial burner parts and systems relating to combustion since 1962.
BurnerParts.com has worked hard to fulfill niche needs within their market. At the outset of their business, they worked primarily with major manufacturers providing the parts and equipment needed to maintain their combustion systems. Now, their gas burner parts, propane vaporizers, tubing and other components have added stability and efficiency to thousands of natural gas and propane combustion systems. Still, the industry is changing and the web is the catalyst for that change.
William Gillie, consultant to burnerparts.com, states that critical components for success are already in place, namely excellent product knowledge and top notch customer service. "Burnerparts.com is well versed in its traditional product base, including aiding in identifying proper selections of burner parts and products. Their purpose is to provide knowledge to customers in order to help them get to the replacements and retrofit parts they need to stay in operation," said Gillie.
"The goal, though difficult, is to convey this to the website user, which is why the look and feel overhaul will be critical to continued success. Customer service goes hand in hand with product knowledge," continued Gillie. "If a visitor to the site needs help locating a product, burnerparts.com will either have it in stock or will work diligently to find it - and in the process be courteous and provide timely results. Customer Service is becoming harder and harder to come by in any American business. Burnerparts.com associates spend their day selecting, locating and shipping burner parts while at the same time providing top notch customer service."
Still, Gillie saw that no matter how successfully they diversified, or how strong their core business practices, burnerparts.com web presence needed to be robust and usable and they needed excellent promotions in order to compete in today's marketplace and to stand out among their competition.
"The industrial and commercial combustion markets have changed substantially over the years. Now burnerparts.com provides not only burner parts to manufacturing plants and huge industrial operations, but also to smaller shops, service providers and commercial installations that require combustion parts, like gas meters and propane vaporizers" said Gillie. "We knew BurnerParts.com needed an overhaul to effectively compete!"
By implementing a new look and feel on their robust ERP system, BurnerParts.com is now better organized and easier to use - enabling the end user, be it a manufacturer or a small commercial burner service provider, to find the parts they need quickly and efficiently.
"The plan includes capitalizing on the newly improved website with exciting promotions so that customers can find what they need, purchase it easily and enjoy free shipping or other discounts depending on what specials are in place at the time," continued Gillie. "If burnerparts.com target customers can find and use the website easily, the rest will take care of itself. After all, 'You can't be cool unless you're runnin' hot!' If you can find the part you need quickly and get back up and running, you're the coolest person in the shop."
About BurnerParts.com
BurnerParts.com, found on the web at http://www.burnerparts.com, is a commercial and industrial combustion part seller and locator. Starting as a supplier to industrial companies, they now sell to corporations, individual contractors and maintenance companies working on commercial and industrial combustion systems. BurnerParts.com has closely followed the needs of customers, driving them into several vertical markets including gas meters, vaporizers, combustion system safety equipment, flame and ignition rods and more. No matter what kind of combustion system part a customer needs, they can shop online or call toll free to find the part through BurnerParts.com
At BurnerParts.com, you can't be cool unless you're runnin' hot!
###