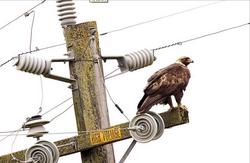 This project has been come to life as a result of the amazing contributions of dozens of organizations and individuals. From winemakers and environmental managers to birders and business CEOs, it's been an impressive collaboration and show of support
Windsor, CA (PRWEB) August 13, 2008
In rapid response to a May 2008 newspaper article "Burning Hawk Starts Vineyard Fire", Resolution Wines and Windsor Vineyards have teamed up to launch the charitable Burning Hawk wine brand to support critical wildlife and energy conservation reform.
10% of total sales of Burning Hawk wine will be contributed to organizations working to prevent raptors and other birds from being killed through electrocution or collision with powerlines, windmills and other elements of the energy system.

In the U.S. scientists estimate that each year millions of birds including Bald and Golden Eagles, Condors and multiple species of Hawks, are killed through electrocutions and collisions with powerlines and other energy utility structures
Utilities such as Southern California Edison and PG&E estimate that as much as 25% of costly power outages are due to this problem
As population and energy infrastructure expands this problem will continue to grow, with tremendous wildlife, energy and financial impacts
Nick Papadopoulos, Director of Resolution Wines, says, "By pairing the enjoyment of fine wine with the commitment to solve pressing wildlife and energy conservation problems, we believe we can make a significant impact in partnership with our wine customers. We hope to establish this brand as a respected contribution vehicle to bird lovers, wine enthusiasts and environmental problem solvers who want to see their daily purchases create positive change in the world."
Burning Hawk's flagship wines, sold online at Burning Hawk, include a 2005 Napa Valley Red Bordeaux blend and a 2006 Alexander Valley Chardonnay, both retailing at $30. Both wines are crafted by acclaimed winemaker Marco DiGiulio, Director of Winemaking for Windsor Vineyards, who was recently hailed by Wine Spectator Magazine as "one of Napa's leading wine consultants," and whose wines often score in the 90's.
"This project has been come to life as a result of the amazing contributions of dozens of organizations and individuals. From winemakers and environmental managers to birders and business CEOs, it's been an impressive collaboration and show of support," says Nick Papadopoulos of Resolution Wines.
"We are excited to be a part of this project to champion such a worthwhile cause," said Patrick Roney, Vintner and CEO of Windsor Vineyards. "When Nick approached us we immediately identified great synergy between our involvement with the Burning Hawk brand and our support of other worthy causes, such as the ASPCA. In fact, we liked the idea so much that we are bringing Nick on board to further develop our philanthropic wine program. The wine business provides an enjoyable vehicle through which folks can contribute, and we are happy to be a part of that collaboration."
Echo Films, producers of the film World of Raptors, is one of the many organizations that have contributed time or resources to this project. Norman Nelson of Echo Films explains, "Our family has spent decades working on these issues both through filmmaking and collaboration with agencies and research groups. This is a critical and costly issue that impacts wildlife and decreases the efficiency of our energy system through power outages and other impacts. We are proud to be a supporter of this venture and believe it will encourage citizens and wine enthusiasts become more aware and involved."
About Resolution Wines:
Resolution Wines was established in June 2008 as the organizational "home" for the Burning Hawk philanthropic wine project. We are dedicated to "resolving to make a difference through fine wine partnerships." In collaboration with Windsor Vineyards, we will explore partnerships with other cause-related organizations to develop additional philanthropic wine brands devoted to raising awareness and funds for important causes. Our team is led by Nick Papadopoulos, who has a deep background in bringing people together to address complex environmental, sustainability and business issues. For more information about Burning Hawk and Resolution Wines visit: Burning Hawk or call Nick at 707.332.9209.
About Windsor Vineyards:
Windsor Vineyards is America's oldest and largest direct-to-consumer winery, and one of the nation's top award-winning wineries. Today, vintner Patrick Roney and Wine Spectator acclaimed winemaker Marco DiGiulio, carry on Windsor's long traditions of excellence in winemaking, customizing wine labels for businesses and consumers, and supporting worthy causes such as Burning Hawk, the ASPCA and America's firefighters. Windsor Vineyards is involved in several conservation efforts including the California Sustainable Winegrowing Program and "Green My Vino," a recently launched social networking initiative to promote clean energy development. For more information about Windsor Vineyards or its wine bottle etching and wine label personalization programs, visit Windsor Vineyards.
###