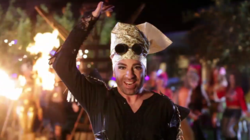 "These songs are the fruit of a rich soil. I like to dive deep and dance in that place where lines of separation are but a myth"
~ Ash on his new album, "Electric Innocence"
Los Angeles, CA (PRWEB) May 22, 2012
May 2012 -- Ash Ruiz, ex-member of Latin-sensation band, Menudo, formally launches his solo music career Tuesday, June 12, 2012, with a controversial music video after 14 years touring with conscious pop band, Here II Here. Ash will release his debut EP album "Electric Innocence" and a music video inspired by Burning Man and the ticket crisis currently facing the mega-festival in the desert. The video is directed by Mikki Willis, founder of Elevate Films, whose credits include Alanis Morissette and India Arie.
Despite Burning Man Festival's efforts to create a smooth ticketing process for the 2012 late-summer festival after last year's sold out festival crashed online ticket sales, this year's lottery system instead created an unprecedented crisis. The massive desert lake-bed festival, capped at 50,000 people by contract with Nevada land management authorities, relies on experienced veteran attendees (called "burners") each year to create the extensive fusion display of art and music. The lottery system failed to account for that need, and thousands of essential veteran burners have been unable to secure tickets for the approaching sold-out festival.
Ash's Music Video for his original song, "Burn (One Love)", addresses this with an up-tempo invitation for those who cannot attend the festival to create the experience in their own homes and communities. Given that the Burning Man culture has always encouraged people to bring its ethos of joyful - and responsible - human expression out from the desert and into mainstream, Ash's video works to visually create what that can look like. Ash says, "When people watch this video, I want them to be inspired to live everyday like the fabulous creative beings they are!"
Early feedback from some listeners, however, have suggested the chorus lyrics, if misunderstood, may prove controversial. With an invitation to "let Mother Earth burn ... in one love", some listeners don't get as far as "one love" and only hear references to letting Mother Earth burn. Regardless, Ash insists the real gift in all his songs is the invitation for listeners to go beyond the veil of intellectual understanding into the realm that 13th-century Sufi poet, Rumi, called, "the field beyond rightdoing and wrongdoing." The lyrics are available on his website.
Simultaneously with the video, Ash's Debut EP Album, "Electric Innocence", will be released worldwide. Featuring 7 original "electro-ganic", beat-driven pop songs, Ash's lyrical themes range from playful spirituality and self-love through the eyes of another, to the 2012 "end-of-the-world" conversation and humanity's innate ability to achieve whatever it dreams.
"These songs are the fruit of a rich soil. I like to dive deep and dance in that place where lines of separation are but a myth", says Ash of his new album.
The music video will be released on Ash's youtube page, http://www.youtube.com/ashruiztv, and his debut album will be available on iTunes, Amazon, Spotify, and Ash's Official Website, http://www.ashruiz.com on Tuesday, June 12, 2012.
For interview opportunities contact
Bryan Reeves, Artist Management
812-480-1504, bryan (at) ashruiz (dot) com
ABOUT ASH
Ash Ruiz was raised around the globe, traveling as a member of the Latin teen-sensation band, Menudo. At 16 he traveled to Machu Picchu for a video shoot. When he stepped off the helicopter and touched the ground, everything disappeared. There was no Ash Ruiz, no Machu Picchu, no llama, no Peru, no Earth, no Universe. All that was present was the ordinary radiance of clear, all-pervading awareness. The inspired mainstream music he began writing from that moment would eventually be featured on ABC Good Morning America, at the United Nations, and before tens of thousands of people across USA & Canada for the next 20 years. Learn more at http://www.ashruiz.com.