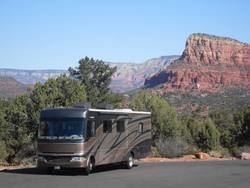 We begin moving in inventory early for Burning Man rentals to our Burning Man departure campground location in Reno, as well as others on the West Coast. This has become a major camping event, something we many adventurous RV campers want to experience
Los Angeles, Calif. (Vocus) August 6, 2010
Burning Man, the fabled celebration of art and self-expression in Nevada's Black Rock Desert, creates a big bump in business for El Monte RV Rentals. Long linked to the Burning Man festival as a supplier of RV rentals to attendees of the event, the Los Angeles-based RV rental firm has learned to prepare for the rush.
This year's Burning Man festival runs August 30 to September 6. Tens of thousands of participants bring in everything necessary for survival on the playa. Festival goers create "Black Rock City", with fantastically decorative camping villages and spectacular expressions of art. A "leave-no-trace" festival, Burning Man culminates in disassembling the entire temporary community and clearing away all traces of the festival.
Preparing for Burning Man means planning for water, food, shelter and fuel during the event. Few vendors are allowed within Black Rock City and disposal of wastewater and sewage is tightly regulated by BLM. Recreational vehicles have become popular as festival goers have learned the rigors of life on the desert without adequate preparation.
In addition to renting motorhomes for the event the company offers luxury RV rental packages that include a fully outfitted & provisioned deluxe motorhome delivered to the attendees campsite at the event.
"We begin moving in inventory early for Burning Man rentals to our Burning Man departure campground location in Reno, as well as others on the West Coast. This has become a major camping event, something we many adventurous RV campers want to experience," says Joe Laing, Director of Marketing for the nationwide RV rental firm.
Laing noted that area El Monte RV Rentals locations start taking reservations immediately after one Burning Man event for the next year. Festival planners expect that nearly fifty thousand people will attend in 2010.
About El Monte RV
Headquartered in Los Angeles, El Monte RV is one of America's leading motorhome and RV rental and sales companies, catering to both international and domestic travelers. The company has experienced rapid growth throughout the United States, thanks to its reputation for exceptional customer service. El Monte RV is the only nationwide motorhome rental company to offer the larger Class A luxury vehicles for rent. For more information about El Monte RV, contact 800-337-2141 or visit our website El Monte RV Rentals.
# # #