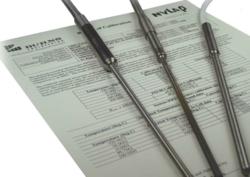 Minimize your downtime. Why wait weeks for your instrument when you can have it back in days?
Minnetonka, MN (PRWEB) March 29, 2012
Burns Engineering now offers 5-Day Temperature Calibrations. The "5-Day Promise" calibration service from Burns includes sensor and system calibrations, industry leading uncertainties and a promise to calibrate instruments within 5 business days (or receive $100 off the calibration cost). Burns has manufactured laboratory grade Secondary Standard PRTs for decades and maintained a NVLAP® Accredited (Lab code: 200706-0) Calibration Laboratory since 2006. The calibration service is compliant to ISO 17025 and ANSI/NCSL Z540; periodic independent system assessments insure a confident and sustainable calibration system.
The 5-Day Promise from Burns allows instrument calibrations to be pre-scheduled to minimize the time the instrument is out of service. The instrument is returned with a Certificate of Calibration which includes "As Found" data and new coefficients to assist in getting the instrument back up and running quickly.
Calibration Capability:

-196°C to 500°C
3 and 5 point options
Industrial and laboratory-grade sensor calibrations
Various sensor-system calibrations - meters, handhelds, multi-channels
Uncertainties as low as 1.6mK
Visit the Calibration Services page on the Burns website to review their NVLAP® Certificate and Scope of Accreditation. For additional insight on Burns capabilities review their Technical Papers on "As Found Data" and "Understanding Uncertainties."
About Burns Engineering:
Since 1960, Burns Engineering has been an industry leader in the design and manufacture of temperature measurement products for the Process, OEM and Metrology industries. Burns designs custom temperature measurement solutions to meet safety, process efficiency and product quality needs. Products include RTDs, Secondary SPRTs, Thermocouples, Thermowells, Transmitters and NVLAP Accredited Calibrations (Lab Code 200706). Learn more about Burns Engineering at http://www.burnsengineering.com or contact directly at 800-328-3871.