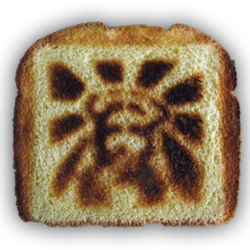 Normal toasters are tamed and subdued by unfortunate limitations; but great toasters rise above them and become Burnt Impressions Toasters.
(PRWEB) November 16, 2012
http://burntimpressions.com A Christmas gift list favorite, the Jesus Toaster, is being offered by the Vermont small business Burnt Impressions. Their novelty toasters toast images on bread. Check out their line of religious, political, and fun toasters at http://burntimpressions.com
"They will most probably sell out this year," says founder Galen Dively, "we have just a couple thousand in stock and judging from last years Christmas sales we may sell out of all our other designs as well."
Christmas came early with the Presidential elections. Burnt Impressions sold out of their Obama Toasters which toasted the President's image. "It has been busy around here lately," Dively says with a grin, "and with this sale we plan on being even busier."
Burnt Impressions was created in 2010 with the introduction of the Jesus toaster. They are a small company in Vermont offering novelty toasters with numerous images that can be toasted on bread. All designs can be seen at their website. For more information please visit http://burntimpressions.com/
Contact Information:
Galen P. Dively III
Burnt Impressions Inc.
CEO/President
galen(at)burntimpressions(dot)com
(802) 751-8431