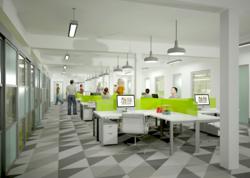 Sunset Harbour is a natural fit for us...
Miami Beach, FL (PRWEB) November 15, 2012
Following its successful debut in Midtown in 2010, Büro Miami is gearing up to open its second "Urban Workspaces" location in the bustling Sunset Harbor neighborhood of South Beach. The 10,000-square-foot waterfront property, occupying the entire 2nd floor at 1815 Purdy Avenue, will feature smartly furnished, fully serviced workspaces available on a flexible month-to-month basis. Opening is scheduled for January 2013.
Like in Midtown Miami, Büro South Beach members will benefit from state-of-the-art amenities, stylish communal spaces, and a wide array of open and private workspace options ranging from $250 to $2,500 per month. In addition, members will have the opportunity to learn new skills through in-house workshops as well as interact and collaborate with like-minded entrepreneurs and creative professionals.
"We are very excited to expand and diversify the Büro community, which now includes more than 50 dynamic young companies," says Büro Founder and CEO Michael Feinstein. "And we believe Sunset Harbor is a natural fit for us – it's a hip, up-and-coming neighborhood with easy access and tons of amenities."
Sunset Harbour has indeed emerged as the latest South Beach hotspot with newcomers Jugo Fresh, Flywheel and Pubbelly joining local favorites such as Green Monkey, Sardinia, and Fresh Market. The stunning new parking garage and retail development on Purdy Ave will further accelerate the growth and appeal of the trending neighborhood.
Brad Safchik of Green Street Real Estate, owner of several properties in Sunset Harbour including the Büro building, is delighted with the latest addition to the neighborhood. "We are thrilled about Büro's upcoming opening here. Their success in Midtown helped drive the growth of that area, and we look forward to them bringing that entrepreneurial buzz to Sunset Harbour as well."
Büro is currently taking reservations for their new South Beach location. Call 305.377.1122 to inquire about availability, or visit the website http://www.buromiami.com for further information.
Contact Info:
Masha Grinberg
masha(at)buromiami(dot)com
305.377.1122