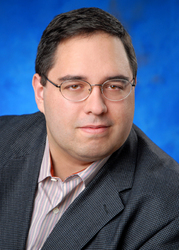 Gearing Up for Web 3.0: What PR Practitioners Can Expect.
Livingston, NJ (PRWEB) February 4, 2009
Jeffrey Barrett, a veteran web developer and chief architect of BurrellesLuce 2.0, will be the featured speaker at the Feb. 11th luncheon of the Westchester/Fairfield Chapter of the Public Relations Society of America.
Barrett's theme will be "Gearing Up for Web 3.0: What PR Practitioners Can Expect." The event will be held in Greenwich, in Fairfield County, Conn. Fairfield and adjacent Westchester County, N.Y., comprise the geographic area served by the chapter.
Following on the heels of Web 2.0, the "semantic web" (as Web 3.0 is also called) is gradually taking center stage in the digital revolution. Web 3.0 is at the heart of many predictions about the future of the Internet and its impact on media relations. In his presentation, Barrett will examine:

Ways the semantic web could improve the work lives of PR professionals
How Web 3.0 could affect the evolution of PR standards
New technology that enhances the functions PR practitioners already perform
BurrellesLuce 2.0 is used by PR professionals to monitor, share, organize, and measure online and print news. Barrett, its chief architect, started as a web developer for Merck & Co. and has more than a decade of experience designing and implementing web applications for a variety of companies. Most recently, for NBC Universal, he managed web projects that delivered social networking applications.
The Westchester/Fairfield Chapter offers PR professionals in the two counties advancement and networking opportunities, including speaker programs, workshops, mentoring, peer groups, a job bank, an agency/freelance directory, and free access to a public relations news website.
Additional details regarding the Westchester/Fairfield PRSA's Feb. 11th luncheon meeting can be obtained on the chapter's website (http://www.prsa-wf.org) or from Tom Mariam, president of Mariam Communications and chairman of the chapter's program committee. He can be reached at 914-939-4294.
About BurrellesLuce
BurrellesLuce helps communication professionals maximize their media relations results through a full range of planning, monitoring and measurement services. Besides delivering content, the company's online platform enables clients to target and connect with journalists and bloggers, monitor the media for coverage, and measure and understand the impact of their outreach efforts. The platform has been further enhanced with the introduction of BurrellesLuce iMonitor, a self-guided media monitoring tool that powers instant searches covering the most local, national and international news from free and subscription sources, including social media.
###