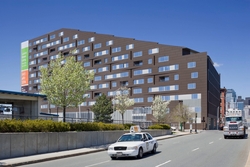 Because of our global network of now 1,100 committed employees, Burt Hill is able to deliver expertise and exceptional service to clients across the globe
Washington, D.C. (PRWEB) June 18, 2008
Burt Hill, an international design firm, announced it has reached a new milestone, welcoming the 1,100th employee between its 10 U.S. locations and three offices abroad. In addition to expanding its integrated design solutions across the globe, Burt Hill's legacy includes a commitment to innovative and sustainable design. The commitment, which began over 40 years ago when the firm initiated its work in energy conservation, has become the foundation of Burt Hill, as it now employs 103 LEED-accredited professionals.
While the firm has been growing over the past 72-years, it has nearly doubled in size over the past three years, adding offices in Dubai, Abu Dhabi and India. The expansion allowed Burt Hill the opportunity to identify new international markets while exploring innovative design capabilities that are atypical of domestic projects.
"With such exponential growth over the past three years, both nationally and abroad, Burt Hill is now positioned as an industry leader in designing integrated solutions," said Peter Moriarty, President and CEO of Burt Hill. "Because of our global network of now 1,100 committed employees, Burt Hill is able to deliver expertise and exceptional service to clients across the globe," continued Moriarty.
In addition to a growing global base, Burt Hill's commitment to sustainability and innovation remains a driving force in the firm's success. Such innovation can be seen throughout hundreds of projects, both in the U.S. and abroad.
About Burt Hill
Burt Hill is an architecture and engineering firm with over 1,100 employees and offices in Washington, D.C.; Philadelphia, Butler, Pittsburgh and State College, Pa.; New York; Boston; Miami; Charlotte, N.C.; Cleveland; Abu Dhabi and Dubai, UAE; and Ahmedabad, India. The firm's clients represent nearly every facet of the economy, including multinational corporations, real estate developers, nonprofit institutions, healthcare providers, colleges and universities, K-12, technology and biotechnology companies, government institutions, and individuals. Burt Hill provides a wide range of services, including architecture, engineering, interior design, landscape, and research, with particular expertise in sustainable design, technology integration, and energy management.
For more information, visit the firm's Web site at http://www.burthill.com.
Contact:
Erin Allsam
Brownstein Group
267-238-4121
Eallsman(at)brownsteingroup.com
Laura Van De Pette
Brownstein Group
267-238-4118
Lvandepette(at)brownsteingroup.com
###