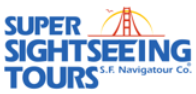 It is our top priority to make sure that the customer's experience with the new Vine and Dine Tour is not only unique and special but also the absolute best value that money can buy
San Francisco, CA (PRWEB) February 11, 2012
Super Sightseeing Tours, the premier San Francisco bus tour company to view San Francisco and Northern California, is announcing the launch of a new excursion program, Vine and Dine Tour. Beginning April 1, guests will enjoy a fine dining and wine tasting experience with the Vine and Dine Tour from San Francisco up to Napa and Sonoma counties.
"It is our top priority to make sure that the customer's experience with the new Vine and Dine Tour is not only unique and special but also the absolute best value that money can buy. We look forward to treating all of our guests to the very best in service and quality," Cameron Douraghy of Super Sightseeing Tours said.
The tour was set up in response to demand from clients who wanted to experience fine dining and a selection of top wines in Northern California. The tour will visit wineries at Michael Mondavi Family Estates, Napa Cellars, Black Stallion and Sebastiani. A gourmet, three-course lunch will be enjoyed at Hurleys. If time permits, the trip will also make stops at some noted tourist spots, such as the famous Golden Gate Bridge, the historic town of Yountville and Sonoma Mission.
The tour departs at 10 a.m. from San Francisco. Super Sightseeing Tours picks up and drops off guests at most major hotels in the city. The tour costs only $139, which includes the gourmet lunch and the wine-tasting fees at Michael Mondavi, Napa Cellars and Black Stallion.
For more information about the Vine and Dine Tour or any of Super Sightseeing Tours' services, call 415-353-5310, or view the company on the web at http://www.supersightseeingtours-sf.com. The Super Sightseeing Tours sales office is located at 2627 Taylor St. in San Francisco.
About Super Sightseeing Tours
Super Sightseeing Tours takes tourists from all over the country and the world on five-star rated sightseeing tours around Northern California. A locally owned and operated company, it offers competitive pricing, convenient services, and new buses and motor coaches, ensuring top-notch experiences. Super Sightseeing Tours is more than just a tour guide; it is a local resident showing guests around to the best that San Francisco and the rest of what Northern California has to offer.
###