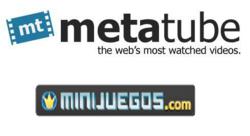 La Jolla, CA (PRWEB) November 21, 2011 (PRWEB) December 09, 2011
Today Busca Corp and MiniJuegos announced that a symbiotic revenue share deal designed to provide new entertainment options and increase user base. The partnership, which is live today, will incorporate MiniJuegos's social, causal and massively-multiplayer online games monetization and distribution platform with Busca Corp.'s video and photo sharing property MetaTube which has an active monthly user base of more than 5 million English and Spanish-speakers worldwide.
"Our partnership with MiniJuegos is a winning deal for everyone, most of all Spanish-speaking users. The partnership provides MetaTube with a wider and more diverse array of entertainment options for users and will increase traffic, user retention and visitor monetization via microtransactions. MiniJuegos grows their user base and receives direct access to one of the largest online entertainment destinations in the Spanish-speaking world," said president of Busca Corp, Ramon Toledo.
According to Pablo Cenalmor, CEO of MiniJuegos, "we are so proud to have closed this deal with Busca Corp, which will allow the growth of leisure and entertainment in what concerns social games. Visitors to this website will have a wide and diverse range of free games, made by multitude of titles. Through our white label, Metatube.com users enjoy a selection of heterogeneous and quality games that will make your entertainment and leisure possibilities multiply".
Busca Corp., the leading digital entertainment network for Mexico, Latin America and the U.S. Hispanic markets reaching more than 20 million page views, is home to several of the most influential Spanish-speaking entertainment properties including LevelUp, the leading online video game news and social media outlet. Prominently featured on Busca Corp.'s MetaTube will be a "Juegos" section providing fans with addicting social, causal and massively-multiplayer games in Spanish.
For more information on Busca Corp., please visit: http://buscacorp.com/. For more information on MetaTube, please visit: http://www.metatube.com/. For more information about MiniJuegos, please visit: http://www.minijuegos.com/
About Busca Corp.
Busca Corp. is the leading and one of a kind Spanish-speaking entertainment media and service provider. Headquartered in La Jolla, California, with branches in Tijuana, Baja California, Mexico City Silicon Valley and Santiago, Chile, focused on the videogame and entertainment enthusiast markets. User can experience in-depth access to a wide array of resources that promote social interaction, information distribution, and overall consumer gratification with such applications as blogs, product reviews, preview, news, event coverage, and video.
About MiniJuegos
MiniJuegos born in 2003 and eight years later, the company has become the first free online gaming site in Spanish. Currently have about 12.000 free titles, 12 million unique users and 135 million impressions per month. The company is currently in the process of expansion, and nowadays has a staff of 20 people who review, purchase, adapt and maintain the games in perfect condition.
After opening the website in Italy, Brazil and Portugal are the next international objectives for MiniJuegos.
http://www.metatube.com
http://www.minijuegos.com
http://www.buscacorp.com
###