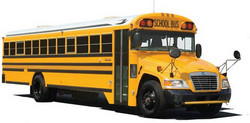 Propane autogas buses are a cost-effective, environmentally friendly, readily available option for bus fleet managers
Washington (Vocus) September 29, 2010
Roush Performance and CleanFuel USA today at a bus conference and expo in Chicago showcased propane autogas-fueled shuttle buses that cut carbon and particulate emissions and lower fuel costs while delivering the horsepower and torque of a diesel-powered bus. 
BusCon offered more than 2,000 public transit managers, bus dealers and operators, and other public and private-sector transportation buyers the chance to get inside a propane autogas-fueled 25-passenger Micro Bird G-5 shuttle bus, to examine a six-liter liquid propane injection engine, and to inspect a propane autogas refueling dispenser. Propane autogas retailers from AmeriGas, Ferrellgas, and Heritage Propane were on hand to answer questions inside the Propane Pavilion.
The Propane Education & Research Council (PERC) and CleanFuel USA held a two-hour training seminar on propane autogas fuel quality, infrastructure, vehicle availability, safety, and environmental benefits. A representative from PERC participated in the "Green Solutions" conference panel.
"Propane autogas buses are a cost-effective, environmentally friendly, readily available option for bus fleet managers," said Brian Feehan, vice president of PERC. "Propane is abundant, clean, safe, and reliable, with many companies offering propane autogas-fueled transit, school, and shuttle buses. "
Collins Bus, Blue Bird, and Micro Bird offer propane autogas-fueled bus options. Freightliner/Thomas, with support from PERC, is developing a propane-fueled engine and truck chassis for use in school buses, with delivery expected in 2013.
On average, propane autogas vehicles reduce greenhouse gas emissions by 17 percent and create 20 percent less nitrogen oxide, up to 60 percent less carbon monoxide, and fewer particulate emissions, compared with gasoline. They also reduce operating costs. Federal and state organizations offer various rebates and incentives for purchasing propane autogas buses or converting buses to propane, and a 50-cent-per-gallon alternative fuel tax credit is available for fleet vehicles.
Propane is already the most widely used alternative fuel on roads today in the United States, powering 270,000 vehicles. Worldwide, more than 13 million vehicles run on propane. 
For more information on the conference, visit http://www.busconexpo.com.
PERC promotes the safe and efficient use of propane as a transportation fuel for its cost-effectiveness, efficiency and productivity, reliability, portability, and environmental friendliness. For more information on PERC and its programs, as well as propane autogas buses and specialty vehicles, please visit http://www.autogasusa.org.
# # #