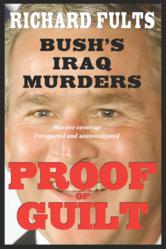 "I present evidence against Bush that proves, beyond reasonable doubt, that he is guilty of murder." ~ Vincent Bugliosi, prosecutor of Charles Manson.


Arlington, VA (PRWEB) November 01, 2011
Richard Fults' new book is titled Proof of Guilt: Bush's Iraq Murders; Massive Cover-up, Unreported and Uninvestigated -- The True Story of the Worst Crime in American History. "In this detailed exposé, Fults provides Seven New Powerful and Compelling Legal Proofs that President Bush and forty co-conspirators are guilty of murder and fraud, and that the news media, the Justice Department, and Congress have been sitting on that public domain criminal evidence for the past 8 years. That continuing, intentional silence by them, has been effectively protecting the murderer Bush and his forty co-conspirators from public exposure and criminal prosecution!"
The book details evidence proving that Bush's 1999 plan included a phony pretext for going to war using a false threat that Iraq would attack us, with knowingly non-existent weapons of mass destruction. The book documents the history of the neocon's '1996' Clean Break Iraq attack plan. It also highlights that four intelligence reports all proved, 'pre-war,' that all WMD were destroyed by 1996. "But Bush deliberately falsified two of those intelligence reports and buried all four, to hide them from Congress and the press." (from chapter two)
Fults comments, "One of the most significant (and simple) proofs of guilt is when President Bush confessed to the press on September 17, 2003, that no evidence had 'ever' existed that showed any connection whatsoever between Iraq and 9/11, or terrorism. So, by definition, no such evidence existed either before or during the time Bush was telling us that Iraq was about to attack us 'again,' -- with WMD -- and that we urgently needed to attack them, ASAP! That de facto criminal confession in turn proves that Bush's entire 17-month public propaganda tirade for war was intentional, unconscionable, outright criminal fraud! He just made it up to deliberately start an unjustified war -- 'exactly' as originally called for in his adopted neocon Clean Break war crime plan of 1999. Vincent Bugliosi, who prosecuted Charles Manson, provides the extensive and detailed, but simple and straight forward, legal basis for Bush's conviction for the mass murder of 4,450 American soldiers."
View the legal details in the 4 min. You Tube video "A Simple Proof of Guilt of Bush's Iraq Murders" at http://www.BushCrimes.net.
"Bush's intentional, massive fear and fraud campaign and attack caused the lives of the 655,000 American families who had members murdered by him, or with missing limbs, damaged brains, or broken minds -- perhaps 6 million people or so -- to go deeply into permanent grief, solely to enhance Bush's own personal political legacy. Proof of Guilt details the true but shocking story of the worst crime in American history. In our land of truth and justice, we have neither one when it comes to Bush. Bush remains completely unaccountable for his horrific murders and devastating woundings: Unreported, uninvestigated, and unpunished. " (from chapter one)
"This true untold story is by far, the biggest news story of our time!"
Visit http://www.BushCrimes.net to see a brief introduction, short excerpts from Chapter 1, several video links to slide shows from You Tube of key highlights in the book, eg: "Bush Iraq Murders Proof of Guilt", 6 min. (Clean Break Plan). Author Richard Fults spent seven years researching and three years writing Proof of Guilt.
###