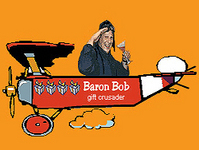 Why not have some fun at the President's expense, considering he's made so much expense for the rest of the country
Maywood, NJ (PRWEB) October 7, 2008
Have a Bye-Bye Bush Party by getting together political pals and present to them politically incorrect George W. Bush novelties. "Why not have some fun at the President's expense, considering he's made so much expense for the rest of the country," says Baron Bob Gift Crusader.
The following is Baron Bob's line-up of George W. Bush novelty items and presentation tips for having a Bye-Bye Bush Party.
Burning Bush Fire Starter:
Gather around the fireplace and then light the Burning Bush Fire Starter. Don't worry about engaging in a heated political debate.
Bush Toilet Paper:
Proceed to march on the Oval Office. Unroll a few squares of the Bush Toilet Paper, imprinted with his smiling portrait, wad up, salute and flush away for a burial at sea.
Bush Bowl Buddy:
After such a ceremony, guests might want to tidy up with the Head Of State Bush Bowl Buddy. Finally a mission accomplished.
Impeachmints:
All this talk about Bush might leave a bad taste in guests mouths. No problem, just have them pop some peach flavored, Bush Impeachmints.
Bush Count Down Clock:
For the grand finale of the Bye-Bye Bush Party, watch the Backwards Count Down Clock elapse to Zero Days, Hours, Minutes and Seconds. "Oh, what bliss."
Baron Bob 'Gift Crusader' is the proprietor of BaronBob.com the world's wackiest gift gallery and is an expert in politically incorrect items and political gag gifts and toys.
###