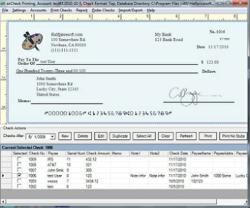 People will never know who will handle their checks. The customized bank checks are also a great way to differentiate a company and get its brand out in the marketplace
New York, NY (PRWEB) April 25, 2012
Check printing software speeds up bill paying and payment receiving. But many businesses overlook checks as a mechanism to get their company name out to customers, vendors, and suppliers. With the new improved ezCheckPrinting software from halfpricesoft.com, users can now print personalized checks with company logo, web site address and contact information easily.
"People will never know who will handle their checks. The customized bank checks are also a great way to differentiate a company and get its brand out in the marketplace," said Dr. Ge, the founder of halfpricesoft.com. "We expect ezCheckPrinting check writer can give users more controls on check design and printing. So our users can customize their bank checks easily to catch more eyeballs."
Designed to eliminate the need to write payroll checks by hand or purchase expensive, pre-printed blank checks, ezCheckPrinting allows businesses to create unique checks by adding the company logo on the bank checks, modify the fonts, add new labels and add signature.
The latest updates to ezCheckPrinting also include changes to make installation and use of the check printing software easier on a greater range of computers. New customers can try ezCheckPrinting for free at http://www.halfpricesoft.com/check_printing_software_download.asp, with no cost and no obligation.
EzCheckPrinting also includes the following features that make check printing easier, faster and less costly for small businesses:

Customize check layout with company logo for a professional, corporate look
Designed for use by people without accounting or IT backgrounds
Supports an unlimited number of accounts and checks
MICR printing capability (for use with laser printers) eliminating the need for pre-printed checks with bank information
Print checks on blank check stock or pre-printed checks
Print signature image on checks
Easy to use reports
Print in 4 popular formats: check on top, check in middle, check on bottom and 3-per-page
Print multiple checks with one click
Export and import of check data for use with ezTimeSheet, Excel file, Quickbooks, Microsoft Money, and other accounting software.
There is no frustrating learning curve, and checks can be printed as soon as a business owner installs the check printing application. One of the main goals of ezCheckPrinting software designers is to make sure that the product is easy to use - even for people who may not have much experience. The software can also serve as a check management system that ensures that check information is stored and organized in one secure place. Generate a printed report for the checks paid for a particular customer, or use the report export function to help prepare for tax season and itemize those valuable deductions and business expenses.
With license keys for as little as $39 per installation (Free through special offer), ezCheckPrinting makes professional looking checks accessible to any size business.
To start the free test drive, please visit http://www.halfpricesoft.com/product_ezCheck.asp
About halfpricesoft.com
Halfpricesoft.com is a leading provider of small business software, including payroll software, employee attendance tracking software, check printing software, W2 software, 1099 software, and barcode generating software. Today Software from halfpricesoft.com is trusted by thousands of users and help small business owners simplify their payroll processing and business management.