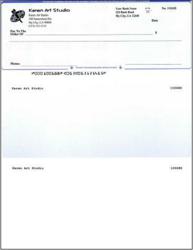 We hope this free offer will open payroll software and check writing software to more customers. And they can start a test drive easily.
Dallas, TX (PRWEB) July 26, 2012
More than 2.2 million small businesses in Texas can save money this summer by getting the blank check stock for free through TrialPay offers at halfpricesoft.com. Halfpricesoft.com hopes this new free laser computer check paper offer will make it easier for users to try check writing software and payroll software, which will boost small business productivity in a down economy.
Printing checks on blank stock in house is totally legal. With check printing software and blank check stock, users can customized the checks easily with logo in house. And users will never run of checks.
The available check paper formats include business check-on-top and 3-per-page with sheet size 8.5 X 11 and check size 8.5 X 3.5, which can be used with most payroll software, check printing, accounting software on market including ezCheckPrinting, ezPaycheck, QuickBooks, Quicken, Peachtree and others.
"It's a win-win-win-win situation: the customer gets free product, we make sales, the TrialPay advertiser makes sales, and TrialPay gets commissions. " said Dr Ge, the founder of halfpricesoft.com. "In a down economy, companies need to streamline and increase efficiency, so they can be more productive with every minute and every dollar. We hope this free offer will open payroll software and check writing software to more customers. And they can start a test drive easily."
Founded in 2003, Halfpricesoft.com has established itself as a leader in meeting the software needs of small businesses around the world. Users that are looking for easy-to-use payroll and check printing software can download free trial software from http://www.halfpricesoft.com with no cost and no obligation.
Currently, Halfpricesoft.com offers several products for free through TrialPay, including:

ezCheckPrinting, business version check writing and printing software
ezCheckPersonal personal check writing software
ezTimeSheet, computer-based employee attendance tracking software
ezW2 W2 and 1099-MISC printing software for Year 2007 to 2011
Stock for printing W2, W3, 1099 and 1096 forms
Never reorder checks from the bank - which often results in costly delays and fees. To learn more this offer, please visit http://www.halfpricesoft.com/product_ezCheck.asp
About Halfpricesoft.com
Halfpricesoft.com is a leading provider of small business software, including payroll software, employee attendance tracking software, check printing software, W2 software, 1099 software, and barcode generating software. Today Software from halfpricesoft.com is trusted by thousands of users and help small business owners simplify their payroll processing and business management.