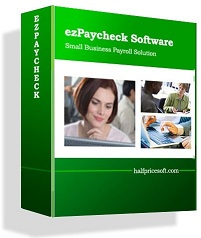 We designed ezPaycheck to be powerful, yet simple, so anyone can use it.
Charlotte, NC (PRWEB) November 28, 2012
Small business payroll tax software provider Tekplus LLC believes small businesses need simple, flexible and affordable software. To open ezPaycheck payroll software to more small firms during the busy holiday season, they announced a new promotion of ezPaycheck software 2012 and 2013 bundle. With this offer, business owners can get ezPaycheck 2013 version at just $10 if they purchase the ezPaycheck 2012 at the full price $89.
"For more than ten years I was a programmer and consultant," says Dr Ge, President and Founder of halfpricesoft.com. "During that time I discovered many small business owners often had one thing in common, regardless of their industry: They were afraid to touch new accounting applications and payroll software programs because they were usually too big or too complex for their needs."
With that in mind, ezPaycheck payroll software's institutive interface is so easy to understand that even people with minimal computer skills can start running payroll and printing paychecks as soon as it's downloaded and installed. The software's graphic interface leads users step-by-step through setting up employee information, set up tax options, calculating payroll - including calculation of federal, state and local taxes; deductions for Medicare, insurance and 401(k) plans; and printing paychecks.
"Small business owners shouldn't be spending hour after hour setting up and learning to use payroll software," said Halfpricesoft.com founder Dr. Ge. "We designed ezPaycheck to be powerful, yet simple, so anyone can use it."
Business owners and managers can try ezPaycheck small business payroll software without cost or obligation to ensure they like the software and that it meets their needs before purchasing it. The latest version of the software can be downloaded for free at http://www.halfpricesoft.com/payroll_software_download.asp . This is the complete software with all included features, except check printing, available for a full 30-day trial. Purchase of a license key unlocks the software for complete, unlimited use.
The main features include:

Prints payroll checks on blank computer checks or preprinted checks.
Automatically calculates Federal Withholding Tax, Social Security, Medicare Tax and Employer Unemployment Taxes.
-Includes built-in tax tables for all 50 states and the District of Columbia.
Creates and maintains payrolls for multiple companies, and does it simultaneously.
Supports Daily, Weekly, Biweekly, Semi-monthly and Monthly payroll periods. Features Report Functions, Print Functions, and Pay Stub Functions.
30 day free trial. No registration required and absolutely no obligation.
EzPaycheck developing team recently improved this in-house paycheck software with the new YTD feature which makes it simple and easy to change payroll software or begin using payroll software for the first time - even for companies in the middle of their fiscal year.
Small business owners who are seeking productivity-boosting solution are welcome to start the 30-day free test drive of ezPaycheck payroll software at: http://www.halfpricesoft.com/index.asp
About Halfpricesoft.com
Halfpricesoft.com is a leading provider of small business software, including payroll software, employee attendance tracking software, check printing software, W2, software, 1099 software, and barcode generating software. Today Software from halfpricesoft.com is trusted by thousands of users and help small business owners simplify their payroll processing and business management.