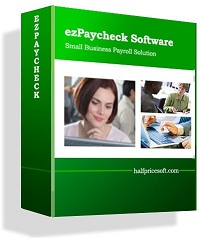 In response to users' requests, we offer the bundle version to help our users speed up payroll tax process during the busy holiday season
Houston, TX (PRWEB) December 10, 2012
A new edition of ezPaycheck payroll software was released in time with updates on W2 and W3 forms for Year 2012-2013 tax season. Small businesses that are looking for an efficient way to handle payroll checks and year-end tax reporting can download and try this software for free at halfpricesoft.com. Current users can download ezPaycheck 2012 update package to get the latest tax forms in a few clicks.
To open ezPaycheck payroll system to more small business users, Halfpricesoft.com offers users a new bundle of ezPaycheck 2012 and 2013 at promotion price $99 (regular price $148). User can purchase this bundle version to use ezPaycheck 2012 payroll software instantly. Halfpricesoft.com will send users the new ezPaycheck 2013 update package before Jan 1, 2013.
"IRS has not published Year 2013 tax rate yet. We cannot release the Year 2013 payroll software until the new tax tables are available, "explained Dr. Ge, the found of halfpricesoft.com, "In response to users' requests, we offer the bundle version to help our users speed up payroll tax process during the busy holiday season."
Purchasing the ezPaycheck 2011 + 2012 combo package is risk free for business owners. Users can sample the software for up to 30 days to ensure it meets all their needs before purchasing. The latest version also comes with YTD manually input feature. For users who handle their paychecks manually or with other software before, they can enter year-to-date totals for each employee instead of entering past paychecks one at a time, making ezPaycheck easy and fast to implement - even for companies at the end of their fiscal year.
The trial version is at http://www.halfpricesoft.com/payroll_software_download.asp for free test drive with no credit carded needed and no obligation.
EzPaycheck payroll and check printing software highlights:

Prints payroll checks on blank computer checks or preprinted checks.
Automatically calculates Federal Withholding Tax, Social Security, Medicare Tax and Employer Unemployment Taxes.
-Includes built-in tax tables for all 50 states and the District of Columbia.
Creates and maintains payrolls for multiple companies, and does it simultaneously.
Supports Daily, Weekly, Biweekly, Semi-monthly and Monthly payroll periods. Features Report Functions, Print Functions, and Pay Stub Functions.
Print Tax Forms 940, 941, W-2 and W-3.
30 day free trial. No registration required and absolutely no obligation.
"Tax issues are the single most significant set of regulatory burdens for most small firms. The Government Accountability Office recently estimated that 1.6 million businesses are behind on paying their payroll taxes," said Halfpricesoft.com's founder Dr. Ge. "We believe small businesses can ease the headaches of payroll tax processing with the new ezPaycheck payroll software."
Small business owners who are seeking productivity-booting solution are welcome to start the 30-day free test drive of ezPaycheck payroll software at: http://www.halfpricesoft.com/index.asp
About Halfpricesoft.com
Halfpricesoft.com is a leading provider of small business software, including payroll software, employee attendance tracking software, check printing software, W2, software, 1099 software, and barcode generating software. Today Software from halfpricesoft.com is trusted by thousands of users and help small business owners simplify their payroll processing and business management.