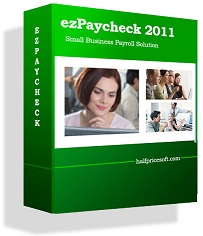 We hope ezPaycheck payroll software can help business owners spend less time understanding what tax rate they should pay and more time ensuring their business succeeds.
San Diego, CA (PRWEB) November 18, 2011
December is always one of the largest and most important months for restaurants. Business owners looking for ways to automate payroll processing can turn to ezPaycheck payroll software. Small business payroll software provider, Halfpricesoft.com (http://www.halfpricesoft.com), released the new version of ezPaycheck payroll software, which makes it easier and simpler for restaurant users to handle tips and process payroll jobs.
This new capability was added to the latest version of ezPaycheck at the request of customers. With this new version, user can add a new customized item as "PAID TIPS" to handle the tip the waitress already collected. In this way restaurant managers can keep track of wage, tips and print correct paycheck easily. Step by step guide can be found at http://www.halfpricesoft.com/business-blog/post/2010/12/10/How-to-handle-tips-with-ezPaycheck-payroll-software-in-restaurants.aspx
Halfpricesoft.com also announced the Year 2011 + 2012 combo package. With the new combo offer, business owners can purchase ezPaycheck today to automate their payroll process immediately for faster end-of-the-year payroll reporting and get access to 2012 updates for just $1 more.
"Meeting the specific needs of our customers is an important part of our business model," said Halfpricesoft.com founder Dr. Ge. "The features we've added to this latest edition were requested directly by our already-satisfied customers. They like ezPaycheck's easy-to-use simplicity and affordability, but some businesses and organizations have unique payroll needs that were not addressed in previous editions. Simplifying the financial tasks of small business owners is our number one goal, so when our customers speak up, we listen."
Other features make ezPaycheck software as one of the best payroll tax solution for restaurants include:

Intuitive and user-friendly interface — Even users without an accounting or computer background can start running payroll as soon as installation is complete
Updated tax tables and tax rates for all 50 states, Washington D.C., and federal taxes
Print check-in-middle, check-on-bottom or check-on-top formats for check printing
Print Form 940 (Employer Annual Federal Unemployment Tax Return)
Print Form 941 (Employer Quarterly Federal Tax Return)
Mask employee Social Security Numbers on check stubs
Flexible controls for tax deductions and tax set-up ideal for churches and non-profit organizations
Robust payroll report and export options
Auto-fill data feature speeds up payroll tasks by remembering dates and other data from previous payroll periods and automatically updating them
Employee list export feature simplifies using ezPaycheck data with other software, such as ezW2 from Halfpricesoft.com
"Now is the best time for small businesses to automate their payroll processes with ezPaycheck Payroll Software. During this coming holiday season, how to increase business productivity is critical for any company," said Dr. Ge, founder of Halfpricesoft.com. "We hope ezPaycheck payroll software can help business owners spend less time understanding what tax rate they should pay and more time ensuring their business succeeds."
Designed with small business users' need in mind, ezPaycheck is easy-to-use and affordable for any business. To start the free test drive, visit http://www.halfpricesoft.com/index.asp
About Halfpricesoft.com and ezPaycheck payroll software
EzPaycheck is developed and distributed by Halfpricesoft.com, a Louisville, Ky.-based firm committed to creating affordable and easy-to-use financial software for small businesses. Additional small-business payroll software titles available from Halfpricesoft.com include w2 1099 software, check printing software, employee time tracking software and barcode printing software.
###