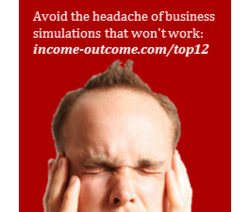 The author and her team have guided hundreds of global brands such as Bic, Coca-Cola, General Electric, Hewlett Packard, McCormick, and Michelin, in choosing and using business simulations to gain a competitive edge.
(PRWEB) June 20, 2011
"Choose the right business simulation game and your team will build business acumen, leadership, and accountability," says the author of a new guide, Top 12 Things to Avoid in a Business Acumen Simulation (And What Is Essential). "Choose the wrong one and you may be worse off than not training your team at all."
The guide is by Eliza Helweg-Larsen, whose company Income/Outcome Business Simulations has guided hundreds of global brands in choosing and using business simulation games to gain a competitive edge. Since 1996, brands such as Bic, Coca-Cola, General Electric, Hewlett Packard, McCormick, and Michelin have put tens of thousands employees through her team's programs.
"The worst business simulations are boring, isolating experiences," she explains. "If they have hidden rules the game feels 'rigged' to produce a particular outcome, and learners disengage. If the game has chance elements, a poor performance is attributed to ill luck, and participants miss out on a learning opportunity. If a game engages the participant's mind but not their emotions, they will not be creatively engaged with the learning. Some simulations represent financial information in detail, skipping over the big picture and main concepts. Or they may not promote accountability. They may introduce fictional drivers of business."
These are just some examples of the "gotchas" to watch out for, Helweg-Larsen says. "The point is, these kinds of shortcomings result in a training program that has little bearing on the work-related needs of participants. And that makes for a poor investment," she adds.
The 15 page guide starts with a checklist to use to compare potential training solution providers. Then Helweg-Larsen explains how each factor bears on whether the training will actually work – that is, whether it will help employees rapidly develop a foundational understanding of business. She even suggests the specific questions to ask a solution provider to uncover information that may not be offered up front.
"Many training solutions sound great based on the marketing materials and the pitch you get," says Lahaja Furaha, Senior Organizational Development Consultant at The Washington Post. "But it's hard to know how to compare them. With this guide in hand, people like me can spot warning signs and learn best practices for business acumen training. I really recommend getting Income/Outcome's advice before investing precious time and money in a business acumen training solution."
The complimentary guide is available for download at http://www.income-outcome.com/top12.
About Income/Outcome Business Simulations (a division of Andromeda Training Inc.)

Hundreds of leading brands including BASF, BIC, Coca-Cola, General Electric, Hewlett-Packard, Michelin, Micron, Motorola, OshKosh, and Rockwell have trusted us with training tens of thousands of employees.
Income/Outcome business simulation workshops vary in complexity. The Level 1 workshop is ideal for events and helps everyone in the company; Level 2 introduces additional finance concepts; Level 3 helps managers practice analyzing, forecasting and planning; Level 4 involves more advanced business challenges; and Level 5 requires advanced strategic thinking in all areas.
Classroom programs are hands-on, interactive and team-based. Workshops use experiential learning methodologies to develop business acumen, leadership and accountability. They demonstrate to everyone in your organization how their decision making affects the bottom line.
Income/Outcome's business visualizer creates The Company Board, a 3-dimensional landscape of a company's actual financial position. When workshops culminate in use of a Company Board, employees start applying their skills to the real world and the lessons stick.
Those interested can get help comparing options; find out pricing, request examples and more using a convenient online form at income-outcome.com/start.
# # #