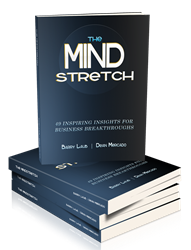 The Mindstretch is more than a business book... the insights permeate every aspect of ones business and personal life.
Long Island, NY (PRWEB) January 17, 2013
Released in October 2012 by co-authors Barry Laub and Dean Mercado, The Mindstretch… 49 Inspiring Insights for Business Breakthroughs is now available for purchase via the Amazon.com online bookstore.
The Mindstretch is based on working through barriers to success, which Barry Laub and Dean Mercado identified in their years of working with entrepreneurs and other business professionals. Designed to impact professionals in any business or career, the book lays out a foundation filled with insights to enlighten and inspire the reader's mind.
In this new business book, seven essential business disciplines are identified. They are: Envision, Believe, Plan, Lead, Communicate, Market, and Sell. For each individual discipline, seven insights are labeled and detailed, in a format the authors call the "Power of SEVEN."
By structuring The Mindstretch as such, the authors aim to stimulate readers to draw value out of each insight. The process is designed to expand the confines of traditional thinking; taking the reader into a state of awareness the authors call "The Mindstretch."
"The Mindstretch is more than a business book," states Laub, "the insights permeate every aspect of ones business and personal life."
Mercado adds, "This book was written in a fashion that cuts to the chase... it gets right to the point and says only what needs to be said and not a word more."
Together, co-authors Barry Laub and Dean Mercado have 60 plus years of business experience. As a result of this expertise, that they have identified inhibiting factors for business success. The Mindstretch addresses these and offers insights into the main disciplines of business. Readers are presented with a narrative intended to alter their state of mind in a positive way for business.
The Mindstretch is now available on Amazon.com and the authors' website at https://TheMindstretch.com.
About the Authors
From their very first conversation together, co-authors Barry Laub and Dean Mercado knew they were destined to work together. Separated in age by two decades, they resonated on a deeper level than either of them had experienced professionally with others before.
With a combined 60 plus years of studying, evaluating and testing success principles and human behavior, Laub and Mercado observed gaps which impede success... the pieces of the puzzle that were missing. Thus, "The Mindstretch" was born.
Barry Laub is President of Infinite Resources, Inc. is a highly sought after business visionary, strategist and entertaining motivational speaker. His years of training experience and success set him apart from the rest. Barry's transformational leadership is known for taking businesses and individuals from where they are to where they want to be.
Dean Mercado, President of Online Marketing Muscle® is a well-respected marketing coach, strategist, author, and speaker with expertise on helping businesses and independent professionals increase their visibility, credibility, and reach within their target market.