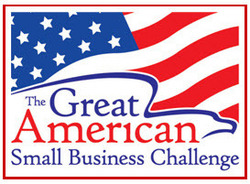 I am enthusiastic that the ASQ is creating a Small Business Network to specifically address the needs of small businesses
Chicago, IL (PRWEB) September 3, 2008
Today, attendees at the American Small Business Development Center's Annual Conference (ASBDC) were greeted by Uncle Sam who invited them to participate in the "1st Annual Great American Small Business Challenge."
The GASBC is a year long event (January 1 - December 31, 2009) that is designed to help small business owners with their strategic planning and business development process. The Challenge is part of a collaborative effort between corporate and non-profit sponsors to help small business owners across the country establish best practices.
All GASBC participants will receive software, training, support and strategic planning tools at no charge, to help create their company's scalable organizational structure. "I think the Challenge is a great opportunity to put the right tools and training in the hands of small business owners," states Mike Kramer, creator of OnTheSystem™ Management Software and co-sponsor of the Challenge. "The ASBDC's Annual Conference is the perfect venue to launch the Challenge," emphasizes Kramer, who is the National SBDC Coordinator for the GASBC. "The ASBDC has been delivering nationwide educational assistance to small and medium sized businesses with limited resources for decades. When we help small businesses, we all win," states Kramer. "When small business wins, America wins!"
Unlike their Fortune 500 counterparts, many small businesses do not have the personal or financial resources to survive recent economic down turns. According to data collected from the US Department of Commerce and the Small Business Administration, there are over 25 million small businesses in the United States. Small businesses, often called the "backbone of our economy," employ over 54 million Americans and contribute to 40% of our Gross National Product.
"Regardless of the important role they play in our economy, little effort has been made to create appropriately weighted quality systems targeting the needs of small businesses," states Jean Kulig-Tucker, President of InteliCorp Business Solutions, Inc. "Our goal is to help small business owners develop the skills they need to improve quality, increase customer satisfaction and capture new opportunities so they can grow their business."
InteliCorp Business Solutions, Inc, is a management consulting company co-sponsoring the Challenge. "We will be helping small business owners to clarify their vision, set realistic goals, plan strategies, implement best-practices and create a program of continual improvement. I believe that with the right, tools, training and support, small businesses can grow their business in a much shorter time-frame and with fewer resources," emphasizes Kulig-Tucker, the National Director for The Great American Small Business Challenge.
As a champion of the quality movement, the American Society for Quality (ASQ), who administers the United States' premier quality honor -the Malcolm Baldrige National Quality Award- has also joined as a Challenge co-sponsor. ASQ members have informed and advised the U.S. Congress, government agencies, state legislatures, groups and individuals on quality-related topics and have over 100,000 individual and organizational members worldwide.
"I am enthusiastic that the ASQ is creating a Small Business Network to specifically address the needs of small businesses," states Kulig-Tucker. "Today, consumers are very sophisticated and their needs are constantly changing. To compete in the 21st Century, small business owners must develop strong leadership skills, engage employees, create a scalable infrastructure and implement an ongoing program of continual improvement. Otherwise, it will become increasingly difficult, if not impossible, for small businesses to offer high quality products that consumers want, and still produce a profit," states Kulig-Tucker.
Everyone who participates in the Challenge has an opportunity to win a Bronze, Silver, Gold or Platinum award. "We've structured the Challenge so that everyone who participates is a winner," states Kramer. "In essence, small businesses are competing with themselves, not each other."
Corporations and non-profits that would like to donate cash prizes, products, books, equipment, software or other services, like web site design, still have time to join as co-sponsors for the Challenge. Sponsors will be listed in all GASBC promotional literature and on the GASBC web site. "Sponsorship is a great way for corporations to support small business owners who are working very hard to realize the American dream," states Kulig-Tucker. "Small Businesses are in desperate need of products and services that can help them streamline their operations and make their business easier to manage," emphasizes Kulig-Tucker. "Any extra incentives or support that our sponsors can provide will really go a long way."
Small Businesses that would like to find out more information regarding the GASBC or would like to sign-up/register for the Challenge should go to The Great American Small Business Challenge web site. Corporations and non-profits that would like to support or co-sponsor the Challenge can also complete a short sponsorship form directly on the GASBC web site.
If you have any questions regarding the GASBC, would like to post information regarding the Challenge on your web site or would like to promote the Challenge in your local area, newspaper or publication, please contact Jean Kulig-Tucker or Mike Kramer.
Jean Kulig-Tucker, GASBC National Director
President, InteliCorp Business Solutions, Inc.
(877) 642-1907 ext. 2
jkulig @ thegreatamericansmallbusinesschallenge.com
jkulig @ intelicorp.us
Mike Kramer, GASBC National SBDC Coordinator
President, OnTheSystem Management Software
(800) 999-9231 ext. 707
mkramer @ thegreatamercansmallbusinesschallenge.com
mkramer @ onthesystem.com
# # #