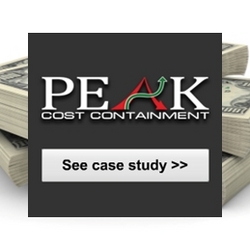 When I saw the numbers I was floored. If I have $24,000 a year to spend on something else, I'm thrilled.
Rocklin, CA (PRWEB) June 15, 2010
Sacramento cost management company Peak Cost Containment has released a cost reduction case study showing how it saved more than $20,000 a year for a 70-employee firm.
The client, Probe Information Services Inc. in Sacramento, conducts insurance investigations, checks compliance and uncovers insurance fraud in 18 Western states. The case study shows how, with a minimal investment of time and at no cost, CEO Ross Stewart was able to cut business costs by 10 percent to 50 percent in a variety of cost categories.
"When I saw the numbers, I was floored," Stewart said.
For Probe, as for all clients, Peak went through the four-step Peak PrecisionSM Cost Reduction Method:
1. Estimate savings with a free Peak PreviewSM Cost Savings Analysis: Any company can get a confidential savings estimate from Peak by filling out a simple form available online. Peak can offer the service for free because it earns a percentage of the actual savings that the client nets after hiring Peak.
2. Plan changes with a Cost Savings Roadmap: Peak cuts costs without sacrificing quality. It finds vendors and negotiates terms that will serve the client well for years to come.
3. Implement changes following the Cost Savings Roadmap: Because Peak has negotiated hundreds of contracts on behalf of clients, it can do the job quickly and smoothly.
4. Track and tally savings results: Follow-up is vital to cost reduction. Peak makes sure that clients get the savings they were promised.
The Probe case study explains the process from initial meeting to final implementation. It is free and publicly accessible at http://www.peakcc.com/resources/case-studies/probe/
About Probe Information Services Inc.
Established in 1992, Probe Information Services has grown to become one of the most successful investigative agencies in California. Our staff combines skill, experience, ongoing training, and sophisticated methodologies to compile and present the answers you need to bring about satisfactory resolution. As specialists in the insurance industry, we have a thorough understanding of the particular needs of your business. Our emphasis is on handling investigations directed toward determination of compensability, defense of insurance claims, and combating insurance fraud. For more information, visit probeinfo.com or call 800.397.6517.
About Peak Cost Containment
Peak Cost Containment is a Sacramento cost management company offering a four-step cost reduction method that helps you spot savings opportunities and negotiate better deals on the services and products you need. Peak reduces expenses by 10-30% in about 90 days for most clients - more savings and faster results than could be accomplished internally. Our experts specialize in negotiating lower shipping costs, optimizing insurance costs, lowering merchant card services rates, saving on office supplies, and finding telecom savings. Peak fees are contingent on client savings - so you pay for performance and stand only to gain from Peak's cost reduction services. Confidentiality. Simplicity. Savings. Get started at peackcc.com or call 877.765.7325.