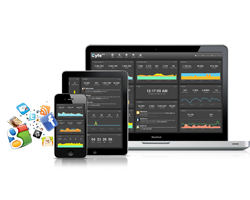 The mother of all dashboards.
Boston, MA (PRWEB) February 02, 2012
Cyfe, a new startup aiming to simplify business analytics for small businesses is out to disrupt the business intelligence market. Let's face it, small businesses and existing business intelligence solutions don't mix well together. They are either too technical for the average user or too expensive for a small business budget.
Market research shows that businesses spend up to 80% of their time collecting data and creating reports. Cyfe has developed a cloud based service that solves this problem by allowing them to easily monitor and share all of their vital business data from one single location in real-time. It's drop dead simple (what used to take days now takes seconds) and absolutely free to get started. Small businesses have a lot of things on their plates already. Cyfe wants to simplify their lives and help them be more productive by providing them with an all-in-one business dashboard.
ReadWriteWeb calls Cyfe "the mother of all dashboards."
Cyfe seamlessly integrates with over 25 popular services out of the box such as Salesforce, Google AdSense, Freshbooks, Amazon Web Services, YouTube, Zendesk, FeedBurner, AddThis, MailChimp, Google Analytics, SendGrid, Facebook, WordPress, GoToWebinar, Alexa, Constant Contact, Twitter, Gmail, Pingdom, SEOmoz, and Google Webmaster Central. Cyfe can also securely pull data from a company's internal databases.
TechCrunch calls Cyfe the "TweetDeck for business analytics."
Cyfe is not another business intelligence solution, it's a command center for SMBs. It's poised to become Salesforce for the analytics industry.
About Cyfe:
Cyfe is out to disrupt the business intelligence market by simplifying business analytics for small businesses. It's a web-based platform that helps companies bring all their business data into one single location in real-time. Allowing them to spend their valuable time on making better business decisions instead of wasting it on analytics and reporting. For more information about the company or to access the Cyfe platform, visit Cyfe.com.
###