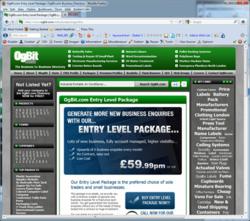 Our newly formatted Entry Level package gives small businesses the opportunity to try out our services without committing to any kind of contract.
Hertford, Hertfordshire (PRWEB) September 09, 2011
OgBit.com, the ground-breaking online business directory company is set to stir up the market again with another great value offering for firms that want to increase their sales.
The new Entry Level package is all about helping small businesses generate new business online without any longer term commitment, so it's great news for sole traders and start-ups looking to generate business from the internet without any costly investment or contract.
Companies all over the UK are already reaping the rewards of OgBit.com's online listings packages. Using advanced search engine optimisation expertise, OgBit.com helps companies to climb the search engine rankings and, as a result, access more new business opportunities than ever online.
Now, OgBit.com have relaunched their Entry Level package in a new 'no-commitment' format, making it easier than ever for businesses try out OgBit.com's services without being locked into a contract. The package is thought to be the only pay-as-you-go online business listing offering on the market. As a result, it's ideal for smaller businesses, giving traders the opportunity to discover the benefits of working with OgBit.com, to raise their online profile and win more business. All packages offer guaranteed levels of traffic to the client's company profile, meaning more enquiries, and ultimately, more business.
Ben Welch from OgBit.com outlined the benefits: 'Our newly formatted Entry Level package gives small businesses the opportunity to try out our services without committing to any kind of contract. Once they see the benefits of working with us, customers are more than happy to upgrade to our Premium or Platinum packages for even better results and more new business enquiries.'
The results speak for themselves. Companies that sign up for an Entry Level package can expect an average of 65 visitors to their profile on OgBit.com every month. Most companies receive a one in ten enquiry rate from these profile views and for some businesses that's equivalent to thousands of pounds of extra revenue each month – which makes the monthly fee of £59.99 superb value.
Many customers are already reporting that they are pleased with the results they are achieving, so it will come as no surprise that 70% of firms that have trialled the Entry Level package have already upgraded to the one of the premium packages.
It all adds up to the easiest way small businesses can make a far greater impact online - for a very small outlay and no commitment. As well as an online search engine optimised listing and three keylinks, the package even includes monitoring and analysis, so clients can see just exactly how well their listing performs.
To find out more about this OgBit.com and their packages for businesses, visit http://www.ogbit.com. You can find full details of all OgBit.com's packages here - http://www.ogbit.com/packages.htm.
###