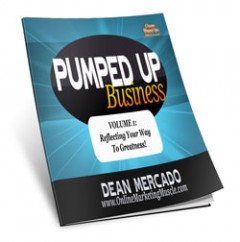 The reflection and planning process contained in this eBook are the very same ones we have used for years to grow our own business as well as the businesses of many of our high-end coaching clients.
Hauppauge, NY (PRWEB) January 15, 2013
Online Marketing Muscle has announced the launch of the free business eBook 'Pumped Up Business (Volume 1: Reflecting Your Way To Greatness!)' that provides tools and small business strategy coaching to help businesses integrate past lessons when moving forward.
"We often hear the term 'don't look back' when the goal is to move forward," Dean Mercado, Online Marketing Muscle President and CEO said, "Why not? Lessons learned can prove very useful in learning what works and what doesn't. They can also help avoid mistakes and uncover solutions for succeeding in the future."
This free new business eBook guides readers through the reflection process to unleash a small business strategy that can drive success. It is filled with valuable exercises; including those on how to use "breakthroughs" to reflect on what has worked in the past and how to accomplish the same feats again. Written by Online Marketing Muscle's Dean Mercado, the eBook provides a guideline for thinking through these elements to reveal opportunities that might prove successful in the future.
Readers will also learn how the proper handling of "tolerations" can help maximize effectiveness, and how to examine the risks taken in the past to see the effect they have had on business. The eBook also assists in figuring out where a business is going. In addition, it asks 10 Change Agent questions designed to encourage a business to reach for success over the next year and the longer term.
Bill Baylis, a small business expert and force in implementing the techniques in the eBook with clients, said, "Growing a business requires constant strategy and change. Each decision and stage can have beneficial and negative components. The eBook helps to look back on the past and identify the positive aspects that drive a successful small business strategy."
For more information or to download the free Pumped Up Business eBook, visit https://onlinemarketingmuscle.com/pumped-up-business/.
About Online Marketing Muscle
A Long Island based Internet marketing consulting company, Online Marketing Muscle helps service-based small and mid-sized businesses use the Internet in building their visibility and credibility. The company combines Internet Marketing Coaching and Internet Marketing Consulting to help clients focus on solutions right for them to find the best path to achieving success.
About Dean Mercado
Dean Mercado, CEO and Co-Founder of Online Marketing Muscle is a well-respected marketing coach, strategist, author, and speaker with expertise on helping small business and independent professionals leverage the power of the Internet to increase their visibility, credibility, and reach within their target market.