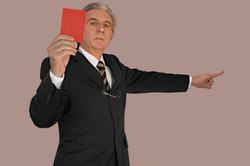 No provider or user of an interactive computer service shall be treated as the publisher or speaker of any information provided by another information content provider.
Los Angeles, CA (PRWEB) August 23, 2010
A recent court ruling cleared the Ripoff Report of extortion charges: Asia Economic Institute v. Xcentric Ventures LLC, 2:10-cv-01360-SVW-PJW (C.D. Cal. July 19, 2010), but the digital marketplace remains watchful and weary of Ripoff Report's business model.
Type a business name into a search engine and count the complaints that come up. As businesses continue to thrive (or fail) as a result of public opinion, the rise of social media has exponentially democratized the public review process and given new vigor to word of mouth advertising, referrals and especially complaints. All of this is well and good, assuming the sources are accurate, balanced, and genuine. But assumptions are not always correct, as entities like the ripoffreport.com and the Better Business Bureau ("BBB") bring this burden of confidence into question.
Reputation management is big business. Most "Consumer Advocate" forums such as The Ripoff Report don't check or regulate the accuracy of content, yet they actively promote the spread (and damage) that these unverified accusations might unleash.
On ripoffreport.com, it states: "Your Ripoff Report will be discovered by millions of consumers! Search engines will automatically discover most reports, meaning that within just a few days or weeks, your report may be found on search engines when consumers search, using key words relating to your Ripoff Report." Granted that consumers are not always going to be satisfied and complains do occur from time to time, but when did it become ethical to encourage people to damage hard working businesses?
Obviously this business model is ripe for abuse, vendetta and even racketeering. The Ripoff Report and other similar sites require little more than a verified e-mail address before broadcasting a barrage of potentially damaging content across the web. Under the guise of consumer advocacy, these sites are just as likely to attract disgruntled employees, unethical competitors, or general havoc wreckers' et al. As such, public good is better served though increased regulation of such websites.
Though numerous lawsuits have been filed against the Ripoff Report and CEO, Ed Magedson, these cases are typically settled for undisclosed conditions, or dropped entirely. This is largely due to the necessary but sweeping sanctions of Section 230(c)(1) of the Communications Decency Act, stating:
"No provider or user of an interactive computer service shall be treated as the publisher or speaker of any information provided by another information content provider."
This can generally be interpreted to mean that webmasters will not be held liable for users' posts submitted without any input or edits from the webmaster themselves, and hence cannot be sued for libel.
An excellent article outlining all of the above can be found here: http://www.seomoz.org/blog/the-anatomy-of-a-ripoff-report-lawsuit#jtc0
In reading, please note that the author was actually sued for her perfectly truthful and accurate report: Xcentric Ventures, LLC v. Bird, 2010 WL 447759 (D. Ariz. Feb. 3, 2010). Only recently did the case reach resolution – in her favor. The details can be found here: http://blog.ericgoldman.org/archives/2010/02/ripoff_report_s.htm
Companies are built for the convenience of consumers, and all things fair, it's the business that caters best that wins the spoils of rightful ROI. Unfortunately, Ripoff Report and other complaint boards don't play fair. Legal victories for Ripoff Report are by and large un-applauded, even referenced (as quoted on Wikipedia) as "legally correct but morally troubling." Despite heartfelt appeals from small business owners (see http://www.reddit.com/r/AskReddit/related/ckcjc/reddit_can_you_please_help_me_for_five_years_i), the Rip-off Report continues to post and profit off the detriment of the over accused and under-represented.
It is not just the "mom and pop" companies that are in danger, as large companies pose as larger targets. Art dealing giant, Park West Gallery hosts a huge Rolodex of satisfied customers. The company is associated with well-respected and elite echelons of the art world – artists and critics alike. Common sense tells us that the company could not have thrived in the business for the past 40 years if this were not the case. However, a quick web query would cast major doubt in the mind of any consumer.
Complaints and misunderstandings are to be expected in the course of the business bustle. Weighted against the vast majority, complaints such as the ones levied against Park West are drops in a large bucket. Further investigation shows much activity on the part of the accused to satisfy each plaintiff – but these good deeds stay buried under a mountain of complains.
Broader categories suffer even more. The Tax Services category is a common service to every tax payer. Tax firms such as Progressive Tax Group effectively assist a multitude of taxpayers in need of professional representation, but a quick Google search puts the company's reputation at risk. It's important to note, that in total, the Ripoff Report hosts nine (9) complaints against Progressive Tax Group. Nine unverified complaints in the roster of what must be thousands of satisfied customers shouldn't detract those in need of services from Progressive Tax Group. With the proliferation of the Internet gaining share in influencing purchase decisions, the propagation of nasty and unchecked claims through entities like the Ripoff Report are becoming more and more troublesome.
The Ripoff report is not the only open forum with questionable operating procedures. Other entities like the Complaints Board (http://www.complaintsboard.com) and even the BBB have been given too much legitimacy for too few reasons. The BBB, for example, holds itself out to be consumer and business friendly, however further research will show that the BBB takes payments in the form of membership/accreditation fees from businesses. This type of payment relationship opens the door for an immediate conflict of interest as the agency responsible for the "A to F" rating system is also taking payments from the rated businesses. Lastly, and most ironically, there are even complaints against the BBB filed with Ripoff Report!
A simple search into the history and credentials of these "advocate" organizations often reveal a questionable routine of private owners profiting from other's businesses under the guise of digital unmediated "public outcry." Quite simply, it isn't fair. While Ripoff Report may have won the recent lawsuit brought against them on the charge of racketeering, it doesn't excuse the business model from scrutiny – and a healthy dose of its own medicine: The Ripoff Report, as well as the BBB and other related entities are in serious need of review.
If your business has suffered a loss as a consequence of unfounded, inaccurate, or even fraudulent claims posted on review sites, email us at agentofthepress(at)gmail(dot)com as we would like to hear your story!
###