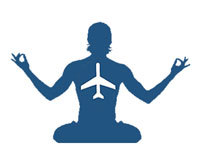 Loyalty programs were originally designed around rewarding valuable customers who consistently fly with that airline. But the tables have turned since these programs were first introduced in the 1980s.
San Bruno, Calif. (PRWEB) May 22, 2012
Most major airlines have some kind of frequent flier loyalty program, with the majority of carriers basing rewards on the number of miles flown instead of the cost of tickets. But travel experts at Alpha Flight Guru say this has recently changed with some airlines now offering rewards based on how much is spent on airfare.
"A strong rewards program can be a major incentive that attracts customers and keeps them loyal to one airline," said Tim Gibson, CEO of Alpha Flight Guru. "Some individuals will pay more to stick to their airline carrier of choice because of the reward system, instead of going with the lower-cost travel option."
One of the biggest complaints the airline industry faces from those using frequent flier miles is not being able to use rewards for the flights customers want. Alpha Flight Guru specializes in helping people redeem frequent flier miles for the tickets they need. Click here to visit the company's website and learn about how it works.
Gibson said booking flights at the last minute and being flexible with dates are a couple ways people work around the system.
Southwest, JetBlue and Virgin America currently operate under revenue-based rewards systems, while larger U.S.-based airlines are beginning to experiment with newer techniques. American Airlines launched Dynamic Air Awards for elite members of the AAdvantage program. The programs rewards customers based on revenue spent with the airline instead of the miles flown.
United and Delta Air Lines offer the option of revenue-based rewards to members using co-branded credit cards, but the return value is low at about one cent per mile, Gibson said. With this option, a statement credit is given to pay for all or part of the flight. There are no blackout dates or restrictions.
"It's just like purchasing a regular airline ticket," Gibson explained.
Foreign airlines are also changing the way they award miles, generally by awarding fewer miles for lower-priced coach fares and increasing the number of miles earned on higher-cost first class and business class tickets.
Among the most frequent users of airline loyalty programs are business travelers looking for the best fares. Gibson said these customers remain loyal to an airline or airline alliance because of the frequent flier rewards program.
"Many of these customers work under tight travel budgets and have less incentive to stay with a particular airline if the system shifts to a revenue-based rewards model," Gibson explained.
Airlines have also changed the way credit card points are used for travel rewards.
"Loyalty programs were originally designed around rewarding valuable customers who consistently fly with that airline. But the tables have turned since these programs were first introduced in the 1980s," Gibson said. "More people are flying from rewards earned through credit card spending than from actually flying on an airline they are loyal to."
According to InsideFlyer.com, the No. 1 incentives credit card companies offer are travel rewards through the use of points and miles. Last year, American Airlines issued 167 billion frequent flier miles, with about 65 percent of those miles sold to credit card companies and other organizations with reward programs.
"The travel industry is very competitive," Gibson explained. "In this market they are finding new ways to reward both loyalty and spending. The return from being loyal to a particular company can result in major travel savings including free flights and hotel stays with various upgrades."
About AlphaFlightGuru.com
AlphaFlightGuru.com provides access to deeply discounted international luxury flights. Through a combination of contract and consolidator fares, and redeeming frequent flier miles for client companies, AlphaFlightGuru.com saves its clients millions of dollars each year on luxury flights. With more than 30 years of experience in the travel industry, and access to exclusive deals, AlphaFlightGuru.com saves its customers money and time, and helps them fly in luxury on the world's best airlines.