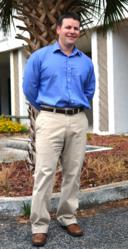 Gainesville, FL (PRWEB) May 31, 2013
Jeff Conklin is joining the firm of Ronald M. Shultz, CPA, PA as an associate. Conklin has 12 years of experience working in Gainesville, including four years as a tax preparer and eight years working as an underwriter for a large commercial bank.
Conklin's unique skill set makes him an ideal fit in the firm as he will bring a high level of expertise in the area of business finance in addition to his extensive knowledge of tax law. He passed the IRS Enrolled Agent (EA) exam in 2002 and worked for James Moore and Company upon his graduation from the Fisher School of Accounting at the University of Florida.
"I am extremely enthusiastic about working with Jeff again as we previously worked together for three years and I found him to be a hard working, intelligent, enthusiastic individual," said Shultz. "Over the years, many faces of accountants and tax preparers have come and gone. Finding the perfect mix of employees has been very challenging. Considering the long term goals of the firm, I made a personal decision that I believe will be in the best interest of you as a client and the firm."
Conklin has a wife and young daughter. He enjoys salt water fishing and dabbling in the stock market.
Ronald M. Shultz, CPA, PA specializes in corporate taxes and tax preparation. Ron Shultz has more than 20 years of experience in the accounting profession. He has spent many years in public accounting, doing business consulting and preparing taxes for individuals and corporations. Shultz also has experience with business valuations, budgeting, business incorporation, cash flow analysis and other business components.
About the company:
To meet the needs of their clients, Ronald M. Shultz, CPA, PA was established as a Florida CPA firm to provide accounting, tax, and business advisory services to corporations, small businesses and individuals throughout North Central Florida. They provide quality service for their clients by staying abreast of accounting, corporate tax, and tax law changes by taking a proactive interest in the smooth financial management of their clients' business. At Ronald M. Shultz, CPA, PA, they make it their goal to understand the individual needs of every client including addressing industry specific challenges, compliance needs and standard tax practices. For more information about the firm, please visit: http://www.northfloridacpa.com.