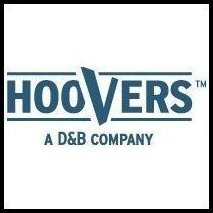 The biggest movers in this latest edition of The Hoover's 100 represent four newcomers to the list, which run the gamut from high tech equipment and banking, to IT outsourcing services and medical device makers
Austin, TX (PRWEB) January 12, 2007
Hoover's, Inc. today announced the latest edition of "The Hoover's 100," a monthly list of the companies most searched on the company's Web site. Hoover's is the leading provider of proprietary business insight to U.S. businesses.
Derived by tracking the search requests of Hoover's subscribers, The Hoover's 100 provides insight on which companies are being watched most closely by corporate executives, as well as sales, marketing, and business development professionals, who represent a large portion of Hoover's customers seeking business intelligence.
"The biggest movers in this latest edition of The Hoover's 100 represent four newcomers to the list, which run the gamut from high tech equipment and banking, to IT outsourcing services and medical device makers," said Tim Walker, Hoover's industry analyst. "The news behind the biggest movers ranged from mega mergers and acquisitions, to executive moves and spinoffs."
Alcatel-Lucent (From #303 to #78)
Alcacent? Lucatel? Rather than come up with a novelty name, Alcatel and Lucent opted for a tried-and-true hyphen to represent their newly combined operations. The two companies -- each a telecom equipment giant in its own right -- completed their mega merger on the last day of November. Although Lucent remains in the corporate name, it was Alcatel that did the buying in this case: the French company paid $11.6 billion to acquire its U.S.-based erstwhile rival.
Morgan Stanley (From #146 to #66)
December was an extremely busy month for the big investment bank, which announced a flurry of large deals. Early in the month, the company completed its previously announced $700 million purchase of Saxon Capital, a residential mortgage firm. Later in the month, Citigroup bought Morgan Stanley's Quilter unit, which provides investment management services for affluent customers in Britain. Later in December, Morgan Stanley made another play in the residential mortgage market -- this time a little farther afield -- when it acquired Moscow-based CityMortgage Bank. As if all that was not enough, at the end of the month the investment bank and two partner companies sold off more than $675 million in real estate held by a joint venture, Town and Country Trust Properties.
Affiliated Computer Services, Inc. (From #123 to #70)
December marked the dawn of a new administration at ACS. At the end of November, the company's CEO Mark King and CFO Warren Edwards resigned after an internal investigation determined that they had had improperly back-dated stock option grants to their own benefit. In the wake of the resignations, the Dallas-based IT company promoted its COO, Lynn Blodgett, to president and CEO. Another long-serving ACS executive, John Rexford, was named CFO and was chosen to serve on the company's board.
Medtronic, Inc. (From #148 to #77)
Medtronic has made a fortune with medical devices that are implanted into sick people, but it made news in December when it announced plans to remove a unit from its operations. The company, which makes pacemakers, spinal implant devices, surgical tools, catheters, stents and replacement heart valves, plans to spin off its Emergency Response Systems business, which makes external defibrillators, into a separate, publicly traded entity named Physio-Control. Medtronic estimates the business' sales for the current fiscal year at $450 million; the company expects Physio-Control to start beating on its own in the second half of 2007.
The Hoover's 100 for December 2006:
Rank Company Last Month Change
1 Wal-Mart Stores, Inc. 1 nc
2 Microsoft Corporation 5 3
3 Pfizer Inc. 8 5
4 General Electric Company 6 2
5 Dell Inc. 9 4
6 The Procter & Gamble Company 4 -2
7 Target Corporation 2 -5
8 International Business Machines Corporation 11 3
9 Citigroup Inc. 14 5
10 Verizon Communications Inc. 13 3
11 Starbucks Corporation 101 +
12 Johnson & Johnson 7 -5
13 Hewlett-Packard Company 15 2
14 NIKE, Inc. 12 -2
15 JPMorgan Chase & Co. 21 6
16 Apple Computer, Inc. 10 -6
17 Bank of America Corporation 32 15
18 The Home Depot, Inc. 18 nc
19 Google Inc. 20 1
20 Cisco Systems, Inc. 24 4
21 Kraft Foods Inc. 26 5
22 The Gap Inc. 16 -6
23 Motorola, Inc. 23 nc
24 General Motors Corporation 17 -7
25 AT&T Inc. 27 2
26 The Coca-Cola Company 3 -23
27 PepsiCo, Inc. 19 -8
28 Yahoo! Inc. 38 10
29 Best Buy Co., Inc. 29 nc
30 American International Group, Inc. 31 1
31 The Goldman Sachs Group, Inc. 53 22
32 Abbott Laboratories 30 -2
33 The Walt Disney Company 28 -5
34 Sprint Nextel Corporation 37 3
35 Amazon.com, Inc. 49 14
36 3M Company 33 -3
37 Ford Motor Company 22 -15
38 Time Warner Inc. 41 3
39 Federated Department Stores, Inc. 39 nc
40 Merrill Lynch & Co., Inc. 48 8
41 Merck & Co., Inc. 42 1
42 Oracle Corporation 34 -8
43 Intel Corporation 45 2
44 American Express Company 40 -4
45 Electronic Data Systems Corporation 43 -2
46 United Parcel Service, Inc. 61 15
47 Anheuser-Busch Companies, Inc. 56 9
48 Honeywell International Inc. 57 9
49 Exxon Mobil Corporation 35 -14
50 McDonald's Corporation 25 -25
To see the entire list of The Hoover's 100, click here.
Click here to see the latest "Hoover's Leadership 100," a corresponding monthly list that highlights the biographies, company affiliations and salaries for the leaders of the most-searched companies.
Click here to see the latest "Hoover's APAC 50" and the latest "Hoover's EMEA 50," corresponding monthly lists that highlight the most searched companies in the Asia-Pacific region and the Europe-Middle East-Africa region.
Hoover's combines insightful editorial expertise, proprietary data collection technologies and a smart, engaging presentation to give its customers easy access to the most enlightening business information available.
About Hoover's, Inc.
Hoover's, a D&B company, gives its customers a competitive edge with insightful information about industries, companies, and key decision makers. Hoover's provides this up-to-date business information for sales, marketing, business development, and other professionals who need intelligence on U.S. and global companies, industries, and the people who lead them. This information, along with powerful tools to search, sort, download and integrate the content, is available through Hoover's, the company's premier online service. Hoover's business intelligence is also available through corporate intranets and distribution agreements with licensees, as well as via Hoover's books. The company is headquartered in Austin, Texas.
RSS feed (http://www.rsspad.com/rss2/9908.xml)
# # #