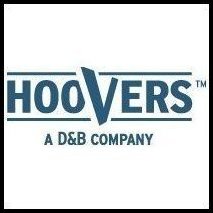 The news behind the latest movers ranged from industry consolidation and strong earnings, to price increases and international expansion.
Austin, TX (PRWEB) March 21, 2007
Hoover's, Inc. today announced the latest edition of "The Hoover's 100," a monthly list of the companies most searched on the company's Web site. Hoover's is the leading provider of proprietary business insight to U.S. businesses.
Derived by tracking the search requests of Hoover's subscribers, The Hoover's 100 provides insight on which companies are being watched most closely by corporate executives, as well as sales, marketing, and business development professionals, who represent a large portion of Hoover's customers seeking business intelligence.
"The biggest movers in this latest edition of The Hoover's 100 represent," said Tim Walker, Hoover's industry analyst. "The biggest movers in this latest edition of The Hoover's 100 represent three companies that have at various times slipped past the 100-mark over the past year, and one company that has been in the top 100 since the list's inception - Anheuser-Busch," said Tim Walker, Hoover's industry analyst. "The news behind the latest movers ranged from industry consolidation and strong earnings, to price increases and international expansion."
Whole Foods Market, Inc. (From #128 to #37)
The grocery business has seen lots of consolidation in the past few years, but an unexpected consolidator emerged in February, when Texas-based Whole Foods Market announced plans to acquire Colorado-based Wild Oats Markets in a deal worth nearly $675 million. The deal, which is expected to close in April, will add 110 Wild Oats stores (some of which bear the Sun Harvest or Henry's Farmers Market names) to the 185 stores Whole Foods already owns. At the end of February, one of the most venerable names in the grocery business, The Great Atlantic & Pacific Tea Company (a.k.a. A&P), announced its own plan to acquire Pathmark Stores Inc., a move which will extend A&P's presence in the U.S. northeast.
Abercrombie & Fitch Co. (From #165 to #55)
February brought good news for that large clothier to America's youth, Abercrombie & Fitch. The retailer reported gains of about 20% each for sales and profits in the fourth quarter of 2006 - results that contributed to strong year-end figures for the company as well. A&F, which operates nearly 950 stores under the Abercrombie & Fitch, abercrombie, Hollister Co., and RUEHL names, also said that it plans to introduce more than 100 new stores under its established brands this year. The company has also dropped hints about a new type of store (the product mix and intended clientele are still secret), that it plans to debut in 2008.
Southwest Airlines Co. (From #229 to #80)
Southwest has made its reputation by offering cheap air travel, but the seemingly continuous rise in fuel prices has led even this low-cost giant to increase its fare prices. The airline's sophisticated price-hedging strategy has allowed it to lock in lower costs even as oil prices have gone sky-high over the past few years. But oil has stayed above $50 per barrel and many of Southwest's older hedging contracts have expired, so the carrier is raising ticket prices to reflect these costs. Meanwhile Southwest, which has enjoyed 34 straight profitable years, has added more flights to its network thanks to changes in the Wright Amendment, which previously restricted where Southwest could fly from its home base of Love Field in Dallas.
Anheuser-Busch Companies, Inc. (From #95 to #47)
Top U.S. brewer Anheuser-Busch made headlines in February when rumors surfaced that it might merge with global beer powerhouse InBev. The big American brewer - which commands a U.S. market share of nearly 50% - could use InBev's international reach, since Busch makes the overwhelming majority of its beer sales in the US. Meanwhile, Busch has announced some international moves of its own: along with beefing up its marketing efforts in the U.K., where its sales have been declining, the company announced that it would begin making Budweiser in India through a joint venture with Crown Beers Ltd of Hyderabad.
To see the entire list of The Hoover's 100, click here.
Click here to see the latest "Hoover's APAC 50" and the latest "Hoover's EMEA 50," corresponding monthly lists that highlight the most searched companies in the Asia-Pacific region and the Europe-Middle East-Africa region.
Hoover's combines insightful editorial expertise, proprietary data collection technologies and a smart, engaging presentation to give its customers easy access to the most enlightening business information available.
About Hoover's, Inc.
Hoover's, a D&B company, gives its customers a competitive edge with insightful information about industries, companies, and key decision makers. Hoover's provides this up-to-date business information for sales, marketing, business development, and other professionals who need intelligence on U.S. and global companies, industries, and the people who lead them. This information, along with powerful tools to search, sort, download and integrate the content, is available through Hoover's, the company's premier online service. Hoover's is also available through corporate intranets and distribution agreements with licensees, as well as via Hoover's books. The company is headquartered in Austin, Texas.
RSS feed (http://www.rsspad.com/rss2/9908.xml)
###