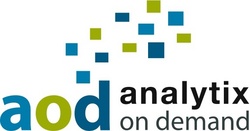 "Not only is the SaaS business intelligence space growing quickly in terms of market acceptance, but we are seeing our client roster growing quickly across our vertical solutions." stated Vik Torpunuri, CEO of Analytix On Demand
Los Angeles (PRWEB) February 3, 2010
Forrester's recent report titled "BI in the Cloud,yes, and on the ground too" highlights the robustness of the SaaS business intelligence market and measures the providers and their services.
The release of this report coincides with the conclusion of a breakout 2009 that saw Analytix On Demand record major client wins in Enterprise, Law Enforcement, Healthcare Business Intelligence, Govcon, SMB, Retail, Media and Education sectors.
"Not only is the SaaS business intelligence space growing quickly in terms of market acceptance, but we are seeing our client roster growing quickly across our vertical solutions." stated Vik Torpunuri, CEO of Analytix On Demand.
While the SaaS or On Demand model has been around for a few years for other industries such as content management and customer relationship management, the unique challenges and costs of business intelligence has kept on demand models from being launched.
However, firms such as AOD are bringing enterprise-class BI solutions to bear that can be applied to both small and large organizations alike. And because it's SaaS, the benefits can be delivered at a monthly rate that severely undercuts the cost of traditional models.
Torpunuri went on to state "The key is making the Business Intelligence Enterprise solution affordable, easy to use and simple to implement. We've achieved all three with our Analytix On Demand SaaS BI solution."
###