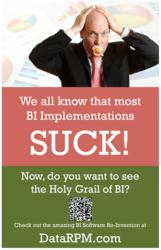 Visit the DataRPM booth at the Cloud Analytics Summit in NYC on May 2nd 2013 to learn more about the Holy Grail of BI
Fairfax, VA (PRWEB) April 29, 2013
DataRPM, the industry pioneer of the disruptive natural language Q&A and search based business intelligence platform for Big Data, announced their participation in the Cloud Analytics Summit. Sundeep Sanghavi, the Co-Founder and CEO of DataRPM, will participate in the panel discussion on "Capitalizing on Cloud Analytics to Turn Big Data Into a Competitive Advantage".
The panel discussion is scheduled for 2:05 p.m. eastern time on May 2, 2013 at the Apella Conference Center in New York City.
The Cloud Analytics Summit provides a unique meeting place for corporate decision-makers to learn about the latest Software-as-a-Service (SaaS), Platform-as-a-Service (PaaS) and Infrastructure-as-a-Service (IaaS) solutions aimed at addressing their BI needs, so they can harness their 'Big Data' sources, and integrate their systems and applications into a more productive enterprise-wide resource to satisfy their corporate requirements.
Every year billions of dollars are spent globally on business intelligence solutions but most of those implementations fail. The reason for this significant waste is because most of the BI and Analytics today are driven by a canned approach – canned dashboards, canned reports and canned data warehouses, which limits the effectiveness of BI. DataRPM is well set on its mission to change this by delivering the Holy Grail of BI. During this event the company will present their disruptive technology and share how it is helping their customers.
"We are truly honored to be a part of the Cloud Analytics Summit and for the opportunity to share our insights", said Sundeep Sanghavi, Co-Founder and CEO of DataRPM. "This event brings together industry thought leaders in Business Intelligence and Analytics to discuss and share their perspectives with corporate decision makers."
Learn more about the Cloud Analytics Summit here: http://cloudanalyticssummit.com/
About DataRPM
DataRPM delivers industry's first natural language and search-based Business Intelligence platform for Big Data on the cloud and on-premises designed for SaaS Companies, ISVs, niche analytics firms and enterprises to offer a unique multi-tenant business intelligence and embedded analytics solution to their customers or internal users. DataRPM's ground breaking analytical search technology enables users to mash-up data from any source for real-time ad-hoc analysis with the ability to ask questions or search and get back results with rich visualizations and interactive capability to slice-dice, drill-down, filter and collaborate in-place among stakeholders to make informed decisions. DataRPM is founded by serial entrepreneurs and technologists and possesses a superb customer adoption rate. DataRPM won the Tech Cocktail Hottest Showcasing Startup in DC in August 2012.